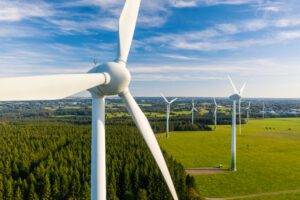 SSE to increase clean energy investment by £2.5bn after profits rise
SSE plans to grow its investment in clean energy by 14% to £20.5bn for its current budget after reporting better than expected profits for the first half of the financial year.
The FTSE 100 utility told investors it will add an extra £2.5bn to its spending plan for the five years to the 2023-2024 financial year, most of which will be used to invest in renewable energy and upgrading the UK's energy grids.
SSE's chief executive, Alistair Phillips-Davies, said the company was prepared to accelerate its green ambitions because it had increased confidence in its future earnings.
The company, which is based in Perth, Scotland, reported pre-tax profits of £565.2m for the first half of the year, up by 1% from the same months last year. SSE set out plans earlier this year to invest £40bn in clean energy over the next 10 years after almost doubling its full-year annual profits compared with the year before.
Phillips-Davies said the company's earnings were likely to keep growing because of the "enduring broad political consensus behind the need to build the electricity infrastructure required for net zero".
He added: "There remains strong underlying political consensus on the big drivers of energy security and decarbonisation – accelerating renewables, network investment and flexible power generation – and these are the growth engines powering SSE."
SSE's renewable energy portfolio earned adjusted profits of almost £87m for the first half of the year, up from £15m in the same months last year, even as milder weather led to lower output from its windfarms.
Aarin Chiekrie, an equity analyst at Hargreaves Lansdown, said SSE had been hoping for a return to "more normal weather in the second quarter, after a slow start to the year" for its renewable energy projects.
"But that didn't materialise as unfavourable weather conditions have left renewables' output 19% lower than planned. That means other parts of the business are having to pick up the slack, leaving little room for further slippage if full-year guidance is to be hit," Chiekrie said.
The company's fleet of gas-fired power plants, which are used to cover peaks in demand for electricity, reported adjusted profits of just over £226m for the first six months of the year, down slightly from £248.2m in the first half of last year.
SSE earned adjusted operating profit of £215.6m from running its high-voltage transmission cables in the first half of the year, up 3% from the year before. Its local power grids business, which has regulated earnings, reported a 31% drop in adjusted profits to £120.1m for the first half after rising costs in its supply chain.
Read more:
SSE to increase clean energy investment by £2.5bn after profits rise