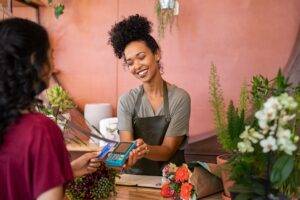 New research shows optimism on the high street with 89% of small retailers' confident of growth
Despite ongoing challenges, small and independent retailers are looking ahead to next year positively, with expectations of business growth rising significantly among 59% of those surveyed in 2022 to 89% in 2023.
The annual survey of independent retail and hospitality business owners, on behalf of American Express and Small Business Saturday, explores current business confidence, priorities and sentiment.
While growth expectations rose 30pp year-on-year, respondents identified a range of ongoing challenges in running their business, chiefly the rising cost of goods and services and energy costs. However, almost half of small business owners said they are 'excited' and 45% 'confident' about the next six months, showing that these challenges aren't dampening their ambition and enthusiasm.
American Express is founder and principal supporter of Small Business Saturday, which takes place on 2 December this year. Small Business Saturday is the UK's most successful small business campaign engaging millions of shoppers every year; in 2022, shoppers spent an estimated £774m in small businesses nationwide on Small Business Saturday 2.
The research shows businesses plan to innovate with a number of revenue-boosting tactics to make the most of the coming festive season; with 86% stating that the festive period is a vital revenue driver for their business.
When asked what they might do differently this year compared to 2022, nearly half are creating in-store events to drive customer footfall, while a similar number are introducing exclusive products or services just for the festive period. The research also revealed a strong fraternity among likeminded business owners; just over half plan to collaborate with other businesses this year to help drive footfall.
Dan Edelman, General Manager, UK Merchant Services at American Express, said: "It's clear that many independent businesses are not just holding their ground in the face of ongoing challenges, but are looking ahead with determination and optimism – ready to make the most of the upcoming festive period. We're proud to support more merchants than ever before through our Shop Small campaign, as well as through our long-standing support of Small Business Saturday."
Michelle Ovens, Director of Small Business Saturday UK, added: "Small businesses definitely need a boost this winter, after sustaining so many years of challenges. With over fourth fifths relying on the festive peak season to carry them through, it's vital that the nation throws its weight behind all our favourite small firms up and down the country on Small Business Saturday and beyond. We need to back them as much as possible – they make our communities, our lives and our economy so much richer – and we need to help small businesses turn the seeds of optimism this winter into flourishing growth in the new year."
Read more:
New research shows optimism on the high street with 89% of small retailers' confident of growth