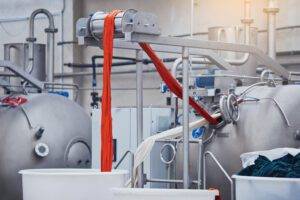 Seed capital funding launches for UK entrepreneurs in colour/dyeing industries
Following the success of last year's inaugural Seed Capital Investment Fund, The Dyers' Company are pleased to launch the Fund for a second year.
This initiative is designed to support innovation and the commercialisation of business ideas within the colouration industry. The deadline for applications is 15th December 2023.
The Dyers will consider initial equity investments of up to £25,000 per venture for fledgling businesses and entrepreneurs seeking to transform their innovative ideas into successful businesses. The initiative is relevant to a vast range of industries/activities with a connection to colour and colouration including colour chemistry and science, food technology, healthcare (e.g., medical dyes), engineering, sustainable dyeing, textiles production for fashion and interiors and much more.
Over time it is hoped that this fund will enhance the economic impact of colouration in the UK by the creation and ongoing support of new businesses, providing vital resources and mentoring for colour and colouration practitioners from across industries.
Historically, The Dyers' Company has supported academics and students in their field with grants, bursaries, and financial prizes.  This will continue, and this initiative extends that support to individuals who may be looking for ways to take the next step in their careers. The Dyers' Company Seed Capital Investment Fund is provided in exchange for a minority equity stake in the business.
Martin Lane, Clerk of The Dyers' Company states: "The Dyers' Company supports the UK dyeing industries by promoting innovation, technical education and sustainability. This builds on the work of the Company in previous centuries, to uphold quality standards across the craft and industry of dyeing. This fund enforces those historic links with the industry, as we support those at the forefront of new technologies."
Recipients of the inaugural round of funding were SAGES London, a London-based start-up using plant waste to create sustainable dyes, and Loom and Power, a Cotswold-based company focused on developing new technologies in the field of fibres and materials.
Tom O'Haire, Director at Loom and Power says: "We're using the investment in our journey to develop a new method for dyeing yarn which increases design freedom and has a lower carbon and water footprint. Following an engaging session with the committee we were thrilled to be successful in securing seed funding from The Dyers' Company. This has been a real catalyst for our business and has enabled us to invest in equipment and materials to further develop our dyeing technology and accelerate our plans significantly. From here we hope to be generating our first sales utilising our technology within the next quarter, marking a significant milestone in our journey.
Longer term, we are looking to attract further venture capital and angel investors in a wider funding round to help build and scale our capabilities. This will enable us to have a real impact on the industry and reduce our collective footprint. The Dyers' Company are now with us on this journey, and we look forward to further interactions with the committee and the broader Company."
Emily Taylor, director at SAGES: "The Dyers Company Seed Investment has been crucial to SAGES' ongoing development. It has allowed us to acquire key pieces of equipment, which have in turn, allowed us to complete innovative R&D into the commercialisation of our dyes. The investment has acted as validation of our endeavours and has given us confidence in pursuing our goals of creating commercially viable dyes from food waste. We are very grateful for the support and are looking forward to continuing our relationship with The Dyers' Company as our business grows."
Timings
The Dyers' Company Seed Capital Investment Fund is organised as a two-stage process. Stage one is an online application, and entries will be open until 15th December 2023. These will then be reviewed by a vetting committee including members of The Dyers' Colour Committee with substantial experience of colouration commercialisation.
Stage two is the short-listing of a small number of potential candidates, who will be invited to interview in early Spring 2024, following which the successful businesses for The Dyers' Company Seed Capital Investment funding will be announced.
How to apply
Open to UK residents only, applications for The Dyers' Company Seed Capital Investment can be made online here.
Read more:
Seed capital funding launches for UK entrepreneurs in colour/dyeing industries