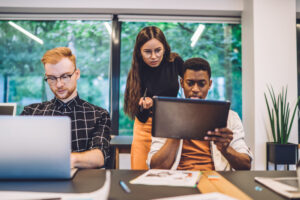 Government unveils £200m digital skills training package
The Government has announced a £200 million digital skills training package to help people across the UK launch careers in growing sectors such as digital, green energy and construction.
The investment will be targeted at specific skills for each region, driven by local businesses in their local skills improvement plans, with a view to creating digitally skilled workforces that can lead growth in local economies.
Training will be delivered through universities and government schemes, backed by this investment, and will support hundreds and thousands of new jobs such as environmental consultancy and electric vehicle manufacturing in line with government growth plans.
Margo Waldorf, Founder at Change Awards, commented: "Digital skills are essential in the modern workplace as organisations take control of fast-moving technologies such as AI, so it is great to see the Government's investment in this area. Change managers, in particular, are faced with the challenge of harnessing these skills to lead transformation projects, balancing the human side of AI adoption with having it work alongside staff to boost productivity. Providing the next generation with these digital skills sets them up to better transition into the workplace and to support change management throughout the business sphere."
Sjuul van der Leeuw, CEO of Deployteq, commented: "Industry is crying out for skilled people that can maximise the potential of technology, especially in digital marketing and sales. Understanding the digital marketplace, and how to operate newer tools such as Generative AI, is an important part of evolving digital skills so it's good to see the government investing in this area."
"Alongside digital skills training, businesses should invest in easy-to-use tools, such as marketing automation platforms, that lower the high-tech barriers and can liberate marketers from needing to be hardcore coders or developers. Companies should invest in selecting the right tools, and training people to get the most out of them. Whether it's promoting a new product or running a campaign for the travel attractions industry, MarTech chiefs need a collection of digitally skilled staff that can wield their creative flair."
The government claim that the investment in local areas is part of its wider skills training initiative, alongside T-level programmes, free courses for jobs and skills bootcamps. Over 40,000 people started a skills bootcamp in the last financial year.
However, Elizabeth Anderson, CEO of the Digital Poverty Alliance, added: "It is good to see the government recognising the importance of digital skills, especially the needs of local communities as part of their latest investment initiative. Our recent research with Deloitte estimates that there are 13-19 million people in the UK who are digitally excluded, whether it be a lack of access to digital skills, devices or connectivity, so addressing one of these factors is a positive step. We rely on online services for so much of our daily lives including education, healthcare and banking, so we must not neglect the millions who are unable to access these everyday services. While it is great to see the government taking action with this skill package, more must still be done to ensure everybody in the country has access to basic digital skills and technology."
Education Secretary Gillian Keegan said: "This investment is about boosting local industries, building people's skills and ultimately futureproofing our economy and the career prospects of the next generation."
"Our local skills projects will bring together regional organisations, businesses and education providers to respond to the specific needs of employers, building an increasingly skilled workforce and growing local economies."
Read more:
Government unveils £200m digital skills training package