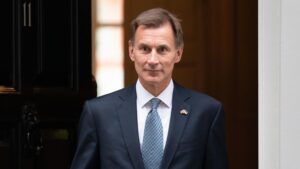 Hunt urged to use Autumn Statement to invest £30bn a year in public infrastructure or risk 'decade in doldrums'
Jeremy Hunt risks condemning Britain to a decade in the doldrums unless he uses this month's autumn statement to announce a £30bn-a-year investment plan to upgrade public infrastructure, a leading thinktank has warned.
The National Institute for Economic and Social Research (NIESR) said the chancellor should ignore calls by Tory MPs for pre-election tax cuts and instead focus on measures to boost growth through improvements to transport, digital networks, skills and housing.
In their quarterly update on the state of the economy, researchers at the thinktank said Hunt had more scope for a bold package than generally believed, because the freezing of income tax allowances and thresholds at a time of high inflation had resulted in stronger-than-expected growth in government revenues.
They said the chancellor should set out immediate plans to raise the level of annual public investment from 2% to 3% of gross domestic product and that there was scope to do so in the autumn statement. "In its absence, the UK is set for a decade in the doldrums and poor prospects for regional regeneration," the thinktank said.
NIESR said it was more optimistic about the state of the public finances than the government's own watchdog, the Office for Budget Responsibility, and said if current tax and spending plans were kept to there would be scope to raise spending or cut taxes by up to £90bn in five years' time.
Prof Stephen Millard, NIESR's deputy director for macroeconomic modelling and forecasting, said the UK would avoid slipping into recession and predicted that the Bank of England would not need to increase interest rates further from their current level of 5.25%.
"Although the good news is that the monetary policy committee have done enough to bring inflation down to target, the bad news is that the UK's sluggish growth performance continues," Millard said. "It is up to the government to increase public investment and encourage private investment so that UK productivity growth may return, and standards of living improve."
The thinktank said the inflation-adjusted incomes of the poorer half of working families – those earning less than £32,000 a year – would be 5% lower in 2023-4 than they had been five years earlier, and not return to pre-pandemic levels until the end of 2026.
The squeezed living standards for those in the bottom half of the income distribution was likely despite the boost for the lowest-paid workers from an expected increase in the national minimum wage of about 10% next year.
Prof Adrian Pabst, NIESR's deputy director for public policy, said: "Higher real wages this year are a welcome boost, especially for low-income working families, who have been hit hardest by the Covid and inflation shocks. But a return to pre-pandemic living standards will require sustained real wage growth, including further increases in the 'national living wage'. All this should be aided by targeted investment in physical and digital infrastructure, skills and housing."
Hunt has strongly hinted that the poor state of the public finances and the need to avoid further increases in interest rates from the Bank of England rule out a big stimulus package on 22 November. The chancellor will instead focus on measures to boost investment, improve public sector productivity and increase participation in the labour force by people who are long-term sick or disabled.
NIESR also called on Hunt to increase investment incentives for businesses, and to revise the government's fiscal rules so that tax and spending decisions can respond to economic shocks.
Pabst said: "Only a rethink of economic and social policy can avoid another period of protracted stagnation where the UK falls further behind other advanced economies and regional disparities continue to widen."
Read more:
Hunt urged to use Autumn Statement to invest £30bn a year in public infrastructure or risk 'decade in doldrums'