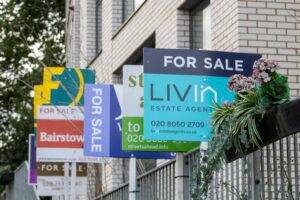 UK house prices rise for first time since March amid supply shortages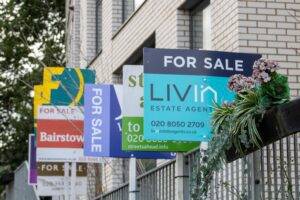 UK house prices rose last month after a run of six monthly falls as sellers adopted a cautious attitude, leading to a shortage of homes on the market.
The average price of a property rose to £281,974 in October, up 1.1% from September, an increase of almost £3,000 and the first time prices have gone up since March. Compared with October last year, prices fell 3.2%, smaller than the annual decline of 4.5% in September.
Kim Kinnaird, the director of Halifax Mortgages, said: "Prospective sellers appear to be taking a cautious attitude, leading to a low supply of homes for sale. This is likely to have strengthened prices in the short-term, rather than prices being driven by buyer demand, which remains weak overall.
UK interest rate cuts expected in 2024; German recession risks rise as factories struggle – business live
Read more
She added: "While many people will have seen their income grow through wage rises, higher interest rates and wider affordability pressures continue to be challenges for buyers."
Jeremy Leaf, a north London estate agent and a former Rics residential chair, said: "We are not getting carried away with the modest rise in prices shown here. Transactions remain subdued, so looking forward we don't expect to see much improvement in the market until January or February of next year at the earliest."
South-east England continues to experience the largest annual decline in house prices, down 6%, while London still has the highest average house price in the UK, at £524,057, falling 4.6% over the last year. In Scotland, prices edged down 0.2% annually to an average of £202,608.
Last week, the Bank of England left interest rates unchanged at 5.25% for a second consecutive meeting, the highest level since the 2008 financial crisis. It warned the economy would be on the brink of recession in the coming year, and signalled interest rates are likely to stay high for a prolonged period as it tries to tackle stubborn inflationary pressures.
The likely end of Bank of England rate rises has translated into a modest dip in mortgage costs. The average two-year fixed residential mortgage rate fell to 6.26% on Tuesday from 6.29% on Monday, while the average five-year fix edged down to 5.84% from 5.87%, according to Moneyfacts.
Halifax expects house prices to fall further overall, and to return to growth from 2025.
"The current picture should continue to be seen in the context of the longer-term house price trend as, on average, prices remain about £40,000 above pre-pandemic levels," Kinnaird said.
The first-time buyer market has held up relatively well, as people try to escape sharp increases in rents. Prices for first-time buyers are down 2.4% year on year, a smaller fall than the overall market (down 3.2%) over the past year.
Housebuilders have responded to slowing demand by building fewer homes, which helps underpin prices. Persimmon built 37% fewer homes between 1 July and 6 November, it said on Tuesday.
It completed 1,439 homes and is aimimg for a total of 9,500 this year, slightly more than anticipated in August but down sharply from nearly 15,000 last year. The builder said its sales rate had improved in the past five weeks, showing a "strong pickup" since the start of October, but warned that "market conditions will remain highly uncertain" into 2024.
Read more:
UK house prices rise for first time since March amid supply shortages