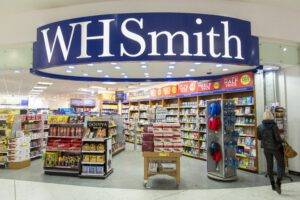 WH Smith launches buy-back scheme for secondhand books
WH Smith has launched a buy-back service for used books, offering readers vouchers in exchange for their secondhand volumes.
Through the BookCycle scheme, launched on Tuesday, readers register their books online, take them to a branch and receive an e-voucher to spend in store or online. The books will be "passed on for another reader to enjoy or will be responsibly recycled", according to the WH Smith website.
Users will register a book using the ISBN number before being given a price, which is based on "criteria such as its condition, the popularity of the title and its demand in the market". A paperback version of Richard Osman's The Thursday Murder Club is valued at 30p, while a hardback copy of Britney Spears' newly released memoir is valued at £3.10.
The scheme is one of several launched in recent years that claim to address the environmental impact of the book publishing industry, which includes deforestation, paper milling, printing, packaging and transport. In 2021, the Publishers Association launched a sustainability pledge called Publishing Declares; it now has 162 signatories, including Penguin Random House UK, Simon & Schuster UK and HarperCollins. In April, the Society of Authors launched Tree to Me, a campaign aimed at encouraging publishers to reduce their environmental impact.
"It makes great sense for our customers and our business to support a circular economy for books, as we aim to minimise our impact on the environment and support our local communities," said WH Smith group commercial development director Ian Sanders.
The retailer is running the scheme in partnership with Zeercle, a company that offers buy-back services. On the WH Smith website, it says that "the majority of the books" will find "new homes through Zeercle's resale channels which offer secondhand books at reduced prices".
Chris Edwards, who owns independent secondhand bookshop Skoob Books, said that though the scheme will help readers get rid of unwanted items, he believes it may operate more like a "recycling service" than a bookselling one. He is doubtful that the scheme is "anything to do with the secondhand book trade" because there is "no evidence to suggest there's an increase in secondhand sales" of the types of popular books that the scheme is likely to attract. Prior to Brexit, booksellers would sell excess book stock to Europe, but this now rarely happens due to sales being subject to 20% VAT, Edwards explained.
Edwards also wondered how it will be financially viable for WH Smith and Zeercle to recycle books, given that the UK is "not a favourable recycling environment since Brexit". WH Smith may instead be launching the scheme to increase footfall or to encourage people to sign up to an online account, he said.
"This sounds rather too good to be true with used books already flooding [the] market here," sustainability organisation Sussed in the Forest stated in a post on X.
Zeercle CEO Eric Gagnaire said that "our business is not recycling books but reselling books in the UK" through online marketplaces including Amazon and eBay.
Authors will not be compensated through the scheme. "While we are keen to see books reused from a sustainability point of view, this initiative could be detrimental to author incomes," said Nicola Solomon, CEO of the Society of Authors. "Most authors receive full royalties on books sold by high-street bookshops," but "rarely receive royalties or other payments from sales of secondhand books".
Gagnaire said that if the scheme is a "success", the company will "study" solutions such as AuthorSHARE – a scheme launched in 2021 that allows authors to be compensated for books sold through large online secondhand bookseller World of Books.
"We're committed to helping our customers with the cost of living and encouraging reading across all sections of the community," a WH Smith spokesperson told the Guardian. "Our partnership with Zeercle delivers both, helping customers by giving them money back for books sitting on shelves at home, and enabling them to redeem that money for new books in our stores."
Read more:
WH Smith launches buy-back scheme for secondhand books