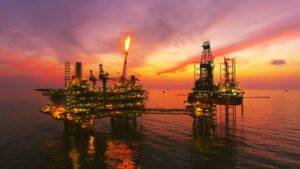 Shell posts $6.2bn profit as oil prices rise again
Oil and gas giant Shell has posted strong profits helped by oil prices rising again.
The energy giant reported earnings of $6.2bn (£5.1bn) between July and September, up sharply on the previous quarter.
Profits were down from $9.4bn in the same period last year, however, when Russia's invasion of Ukraine caused a spike in oil and gas prices.
Oil prices are currently lower than that period, but have risen recently.
That is largely due to members of the Opec+ group of oil-producing nations cutting output to support the market.
Earlier this week, the World Bank warned that the conflict in the Middle East could push the price of crude oil up to $150 a barrel – compared to $85 today.
Shell said its earnings in the past three months were up 23% on the previous quarter.
It said it had benefitted from higher oil prices and pumping more oil and gas, along with making more money from refining and gas trading.
Oil prices surged in 2022 before falling back earlier this year, leading to lower profits at energy firms.
However, the cost of crude oil has moved upwards again since the production cuts in the summer.
Members of Opec+, led by Saudi Arabia and Russia, brought the cuts in due to concerns about weakening global demand.
Moscow also blamed Western "interference with market dynamics", referring to the cap on Russian oil brought in following its invasion of Ukraine.
It has already caused petrol prices to rise, hitting drivers at the pumps.
Following its results, Shell announced a plan to return $3.5bn to shareholders through a share buyback programme. In total the firm will return $23bn to shareholders this year.
Jonathan Noronha-Gant, of the climate campaign group Global Witness, criticised the payouts.
"Shell's shareholders remain some of the biggest winners of Russia's brutal war in Ukraine and ongoing global instability," he said.
"The turmoil in fossil fuel markets allows Shell to rake in enormous profits – but instead of investing in clean energy, the company has doubled down on oil, gas, and shareholder pay-outs."
Greenpeace campaigner Charlie Kronick said: "People are sick of watching oil bosses feign concern about the planet while slashing jobs and investment in renewables and ploughing money into dividends, share buybacks, and new fossil fuel projects."
Shell boss Wael Sawan, who took up his post in January, changed Shell's strategy to put more focus on oil and gas and announced plans to cut at least 15% of the workforce at its low-carbon solutions division.
Read more:
Shell posts $6.2bn profit as oil prices rise again