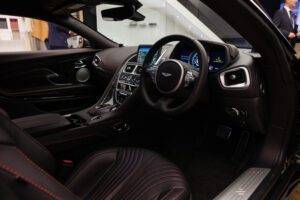 Aston Martin cuts volume targets after production delays
Delays in the production of its new DB12 model have led Aston Martin Lagonda to cut volume targets for the year.
In an update on trading in the third quarter, Aston Martin reported losses of £117 million, worse than expected in the City and leaving it £260 million in the red for the first nine months of 2023. That comes after a loss of £511 million in the first nine months of last year. Unexpectedly, it also cut production volume targets for the full year by more than 4 per cent to 6,700.
Aston Martin, the only carmaker listed on the London stock market, has been blighted by profit warnings and emergency fundraisings since it was floated in 2018.
The DB12, which costs £185,000, is the latest in an eight-decade series of sports cars, of which the 1960s DB5 model remains the best known. The company insisted that production of the DB12 was catching up and that its financial forecasts for 2024 remained intact.
Nevertheless, shares in the company closed down 19½p, or 8.9 per cent, at 199¼p, their lowest level since February. The stock has nearly halved in value since reaching a 20-month high in July after bullish company pronouncements at a capital markets day in June.
The carmaker's stock is tightly held, with Lawrence Stroll, 64, the Canadian tycoon who is its executive chairman, and a consortium of friends, as well as the PIF sovereign wealth fund of Saudi Arabia and Geely, the Chinese automotive group, between them accounting for more than half of the shares.
A company statement said: "The DB12 production ramp-up was temporarily affected as supplier readiness and integration of the new infotainment system was delayed. These issues are now resolved, but did impact third-quarter volume and our full-year production capacity."
Aston Martin, which is based in Warwickshire, previously had expected to deliver 7,000 cars this year, up from a total of 6,400 in 2022.
Stroll, who separately owns the Aston Martin Formula One motor racing team for which his son, Lance Stroll, drives, promised that Aston Martin Lagonda remained on track to produce underlying operating profits of £500 million next year on revenues of £2 billion. For the first nine months of 2023, those figures were £131 million and £1.03 billion respectively.
Read more:
Aston Martin cuts volume targets after production delays