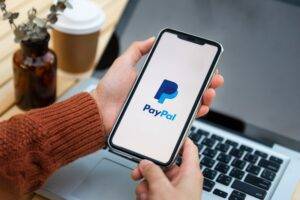 Regulator acts against PayPal and QVC as more Britons turn to buy now, pay later
The City regulator has taken action after finding that customers of two leading buy now, pay later providers were "at risk of harm" because of potentially unfair and unclear small print.
The US-based online payments group PayPal and the TV shopping channel QVC have changed the terms of their contracts after the Financial Conduct Authority (FCA) expressed "concern" over the impact to customers.
The action coincided with fresh data revealing a surge in the numbers of people in the UK turning to buy now, pay later (BNPL) during the cost of living crisis – prompting fresh demands from campaigners for the multibillion-pound sector to be properly regulated.
BNPL lets online shoppers stagger payments and has enjoyed explosive growth in the past few years – but it has been accused of tipping people into debt.
Typically, the cost is split into weekly, fortnightly or monthly instalments, and lenders usually make their money via commission from retailers.
While the FCA currently does not officially police the BNPL sector, it has some powers to intervene, and revealed it had stepped in to secure changes to some "potentially unfair and unclear contract terms".
The FCA said that PayPal and QVC had voluntarily made their "continuous payment authority" terms easier to understand and that PayPal had made terms relating to what happens when a consumer cancels the purchase funded by the loan "clearer and fairer".
A continuous payment authority is where an individual authorises a company to take one or more payments from their debit or credit card.
The FCA does not have regulatory oversight over BNPL products, but a spokesperson said it "is determined to protect consumers using financial services where it can".
The City watchdog said there had been a "significant increase" in the use of BNPL, with 27% of UK adults – about 14 million people – turning to it at least once in the six months to January this year. This was up from the 17% who said they had used it in the preceding 12 months in May 2022.
The research also found that frequent users of BNPL were "more likely to be in financial difficulty".
A PayPal spokesperson said it had "voluntarily made changes in July 2023 to a couple of legal terms and conditions relating to [its BNPL offering] PayPal Pay in 3. We have worked closely with the regulator over these matters and have now agreed an undertaking with it. This will give further clarity to customers who took out Pay in 3 loans under the old terms."
The spokesperson added: "PayPal is committed to treating its customers fairly … PayPal takes its regulatory obligations seriously and is fully committed to complying with all applicable laws and regulations."
Read more:
Regulator acts against PayPal and QVC as more Britons turn to buy now, pay later