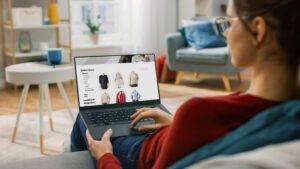 Cash-strapped Britons turn away from online shopping
Online retail sales have contracted at the sharpest pace on record this month, dragged lower by people cutting back on their spending because of higher interest rates and an uncertain economic outlook.
Monthly internet sales dropped to a weighted balance of -78 per cent in the year to October, the biggest decline since 2009 and down steeply from September's balance of -3 per cent, according to the CBI, the employers' lobby group.
The fall is a marked turnaround from when households flocked to online retail platforms in response to Covid-19 lockdowns closing off high streets.
Overall retail sales fell to a balance of -36 per cent annually in the year to October, the joint worst reading for that specific month since the CBI started measuring the data in the 1980s and down from -14 per cent in the previous month.
The numbers echo downbeat official estimates of retail sales published by the Office for National Statistics last week, which were lower than City analysts' expectations at -0.9 per cent in September. Consumer-facing companies also signalled that they expected retail sales, which have been negative for six months in a row, according to the CBI, to continue to contract over the winter months. Normally, this is when much of the sector generates most of its income.
Martin Sartorius, principal economist at the CBI, said: "As the festive period approaches, the retail sector remains in a perilous position. Sales volumes have been falling year-on-year for six months in a row, as cost of living concerns and higher interest rates weigh on consumer spending. While slowing inflation should help to bolster households' income in the coming months, retailers will continue to face headwinds from higher energy and borrowing costs."
Inflation has slowed from a peak of 11.1 per cent to 6.7 per cent, but household finances are still catching up with a steep rise in prices that has lasted for nearly two years.
Wages are now accelerating faster than prices, up by about 8 per cent, according to figures from the ONS, which economists expect to stir consumer spending and economic growth.
Read more:
Cash-strapped Britons turn away from online shopping