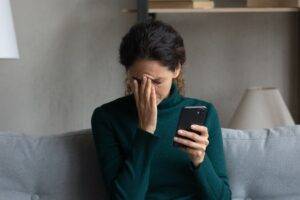 UK consumers lose £580m to fraudsters in first half of 2023, new figures reveal
Scammers were responsible for nearly 1.4m cases of fraud in the UK during the first half of 2023 – the equivalent of one every 12 seconds – with romance scams and ID theft among the fastest growing categories.
Overall, criminals stole £580m in the first six months of the year, according to the banking trade association UK Finance, suggesting households are set to lose more than £1bn to fraudsters during 2023.
UK Finance, which collates data on behalf of high street banks, said it was particularly concerned by the 29% jump in romance scams, in which people pretend to fall in love with the victims and then ask for money. It described them as "particularly nasty", often involving multiple payments.
About £18.5m was lost in this way during the first half of the year, mostly by vulnerable consumers who invariably can ill afford the cost.
ID theft, where criminals use their victim's personal information to either take over existing accounts or to apply for credit cards, saw the biggest increase – up more than 50% to £33m for the six months.
Authorised push payment (APP) fraud cases, where victims are duped into making online transfers, usually into fraudster-controlled accounts, were up 22% to £240m compared with the same period last year.
Despite the big rise in APP frauds, overall the amount lost by consumers to fraudsters fell by 2% compared with last year.
The number of cases where criminals impersonated a bank or the police and convinced someone to transfer money to a "safe account" fell by 35% as it appears the message that banks will never ask someone to transfer money in this way is finally being heeded.
Ben Donaldson, the managing director of economic crime at UK Finance, said criminals were increasingly using social media, online platforms, texts, phone calls and emails to deceive victims.
"In the first six months of this year ruthless criminals had already stolen more than half a billion pounds from victims through fraud.
"In addition to the financial losses, these crimes often involve callous manipulation of the victim, which can cause psychological and emotional harm.
"The only way we will prevent fraud is if other sectors do much more to help us deal with the criminality which is increasingly taking place on their platforms."
Liz Ziegler, the fraud prevention director at Lloyds Banking Group, echoed his view. "Far from stemming the tide of fraud, the wave of social media scams impacting UK consumers only continues to grow.
"We know from our own research that more than two-thirds of online shopping scams start on Facebook. Yet it remains far too easy for criminals to set up fake profiles and advertise items that simply don't exist, with no secure payment method offered to buyers.
"It's high time tech and social media companies also took responsibility for protecting their own customers, stopping scams at source and contributing to refunds when their platforms are used to defraud innocent victims."
Read more:
UK consumers lose £580m to fraudsters in first half of 2023, new figures reveal