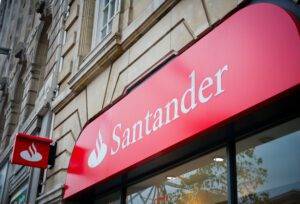 Santander cuts UK mortgage lending by more than £10bn
Santander's UK division saw healthy pre-tax profit in the first nine months of 2023 but has slashed UK mortgage lending amid higher interest rates.
This increase was driven by an eight per cent rise in net interest income from higher interest rates, although offset by falling lending margins.
Customer loans and deposits fell amid a slowing housing market and higher mortgage rates.
The Spanish bank's UK business reduced mortgage lending by £10.1bn in light of the higher cost of capital.
It noted strong deposit acquisition last month, with deposits down £0.2bn compared to a total of £6bn for the six-month period.
Santander said households and businesses would continue to feel the pressure of high-for-longer interest rates in the future, with the bank's net interest margin forecast to peak in 2023.
"We have delivered a good set of results in spite of a challenging macroeconomic environment," said Mike Regnier, the bank's chief executive, in a morning update.
"We provided competitive rates for savers, including a top-of-market easy access savings account, and helped homeowners struggling with rising rates, through the government's mortgage charter."
The wider group's third quarter attributable profit was €2.9bn, up 26 per cent from the second quarter.
Santander highlighted a strong growth in revenues for Europe and Mexico, although the group saw an expected rise in loan loss provisions by 21 per cent partly due to higher interest rates and inflation.
Total loans fell by two per cent, while consumer lending rose by seven per cent. The bank said customers were continuing to use excess deposits to pay down debt on mortgages in particular, with some markets also seeing reduced demand due to higher interest rates.
Santander shares fell by 1.5 per cent in London on Wednesday morning.
Read more:
Santander cuts UK mortgage lending by more than £10bn