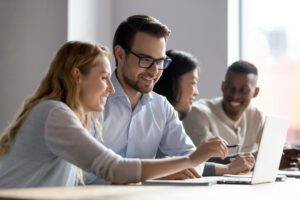 Two-thirds of SMEs find it difficult to retain valued employees
Nearly two thirds of SMEs are finding it increasingly difficult to retain valued staff in the current economic climate.
Chief Executives and Managing Directors are feeling this most acutely, with three quarters of the C-Suite finding valuable staff members harder to hold on to.
When it comes to retaining key members of staff competitive salaries and benefits packages are still the most widely used method to keep employees satisfied, with 44 per cent of SME employers using this as their main tool in their armoury. However, this is closely followed by hybrid & flexible working with 41 per cent offering these working patterns, as it is widely considered a key factor when employees decide whether to stay with a firm or move. A positive and inclusive culture is also cited by 40 per cent as being key to retaining staff.
Providing professional development opportunities, such as training and upskilling, is another mechanism SMEs use to keep employees engaged, with 39 per cent offering this as a form of talent retention.
However, nearly half of SME employers are finding it harder to allocate budget to upskilling and training the workforce in the current economic environment.
It is not just retention that is a challenge. On average, 16 per cent of SMEs are finding it difficult to recruit the right people with this number rising to almost one in five for firms between 10 and 249 people. The current economic uncertainty is prohibiting SMEs from growing their business operations, through hiring more staff, with 39 per cent citing this as being harder.
Alison Traboulsi, Product Manager at Direct Line business insurance commented: "Attracting and retaining skilled employees can be challenging no matter what size your business is. Competition for highly skilled talent is fierce and aligning to the needs and demands of a constantly evolving workforce can be tricky. Employers need to balance their recruitment strategy to enable them to attract the top talent alongside their retention strategy to ensure they keep their best employees. To do this they need to make sure their staff are engaged, motivated and committed to the organisation. The areas to focus on that have the most employee appeal are salary and benefits packages, flexible working, a positive work culture, career development opportunities and a desirable work environment."
Read more:
Two-thirds of SMEs find it difficult to retain valued employees