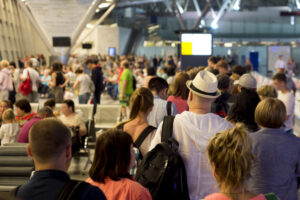 SMEs fear winter supply chain crunch could hit revenue in crucial Christmas trading period
Supply chain disruption is the top concern of medium-sized businesses ahead of winter, a survey has found, as rising costs put pressure on revenue targets.
The poll of business leaders by consultancy BDO showed nearly a quarter fear that supply chain issues, including suppliers folding and stock shortages, could endanger revenue targets this year.
More than half were concerned that rising costs might make materials or access to labour markets unaffordable in the UK or overseas, with a third worried about fulfilling contracts.
"These are significant challenges in the run-up to winter – traditionally the busiest period of the year and a "golden quarter" for some of the sectors at the heart of the UK economy," said Richard Austin, a partner at BDO.
"As the engine of the UK economy, mid-sized businesses need the right tools to help them, not only weather the months ahead, but also to deliver their plans for growth.
"These businesses want to see targeted actions and policies in addition to fiscal measures. As we all navigate through an increasingly challenging economic period, the role these businesses will play in the overall recovery of the UK economy should not be undervalued."
Nearly a quarter of firms were seriously concerned that customers might spend less due to inflation or the cost of living crisis as the Christmas trading period looms.
Almost three quarters worried that energy bills could rise compared to last winter.
International conflicts have reshuffled global supply chains and caused European gas prices to soar this year.
Almost half of respondents planned to invest in energy efficiency and two fifths have or may need to pass costs to customers.
Businesses urged the government to for new government support, with one in five wanting to see cuts to business rates or capital allowances and almost half calling for help in filling workforce gaps.
Read more:
SMEs fear winter supply chain crunch could hit revenue in crucial Christmas trading period