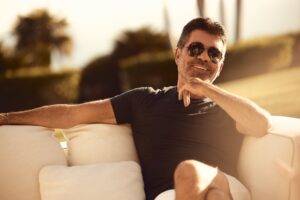 Simon Cowell backs new streaming platform launched to champion millions of content creators
It's a yes from him! Got Talent and X Factor creator Simon Cowell is backing a new online streaming platform, Lounges.tv, which showcases exclusive content of rising content creators and gives a new chance for their talent to be noticed and most importantly, to be more quickly financially rewarded.
Cowell, who discovered some of the biggest names in music – from One Direction, Camila Cabello, Leona Lewis, to Labrinth – has joined Lounges.tv to help creators get heard, earn money and take their careers to the next level.
The content creator industry has never been bigger. With a staggering 3.7 million new videos flooding YouTube alongside an additional 34 million TikToks uploaded a day, creators are finding it impossible to be seen and fairly compensated.
The global video streaming market size is expected to reach USD 416.84 billion by 2030. Yet, just under half of full-time creators make under $1,000 annual revenue, while 68% of part time creators bring in under $1,000, as rewards are built on an ad-based views system rather than genuine talent.
Lounges.tv provides a faster new way for content creators to monetise their content online, ensuring content creators get to keep 80% of all their streaming income, and are paid within 24 hours of going live. The platform offers a sanctuary for content creators – including musicians, comedians and fitness trainers – that rises above the noise, ensuring exceptional talent receives the recognition it deserves.
Thousands of creators have already signed up to the ad-free platform, which is also backed by iconic musician Prince's former manager Kiran Sharma and BBC iPlayer founder Ben Lavender.
Speaking about his investment, Simon Cowell, said: "I am proud to be involved with and to support Lounges.tv. You never know where the next great talent will emerge from and I really believe that creating as many opportunities as possible for talent to be discovered and to build their own fan bases is great for everyone. The artists and the audience, rightly, are making 100% of the decisions and Lounges.tv is giving talent another new type of platform to promote themselves. I was really interested to learn that on Lounges.tv creators get paid within 24 hours and I thought that was a really good idea and hopefully will make a difference."
Ben Lavender, Creator of BBC iPlayer and equity stakeholder of Lounges.tv, comments: "With the support of Simon Cowell, Lounges.tv has the potential to revolutionise an industry that has long neglected the needs of the community and the aspiring individuals forging their careers within streaming. The platform offers creators a fresh opportunity to not only showcase their talents, but to be more quickly financially awarded. At a time where the cost-of-living crisis is casting a shadow over the creative industries, entities like Lounges.tv play a crucial role in shaping a brighter and more sustainable creative future."
With thousands of hours of on-demand content readily available, the platform is designed to create a direct interaction between creators, influencers, brands, and their audience. It also offers a real-time fan engagement experience during live streams, creating the ambiance of a live concert, allowing viewers to interact with creators through live chat, song requests, and a tipping revenue model for creators.
The online platform incorporates a rapid pay-out system, ensuring that creators receive their earnings within 24 hours of their on-demand content or live stream. The feature addresses a long-standing issue in the industry, providing financial stability to content creators, as well as a sense of community and helping creators build a dedicated fan base."
Scott Green, Lounges.tv Co-Founder and CEO comments: "We are thrilled to announce Simon Cowell as a shareholder of Lounges.tv. Simon is the undisputed global authority when it comes to talent recognition in this country and aligns perfectly with what our platform represents. Lounges.tv serves as the haven for exclusive content, where exceptional creators shine amidst the noise, garnering the recognition they truly deserve. "Creators and artists now have the opportunity to not only showcase their talent but also earn a fair income while pursuing their passion. By eliminating the reliance on ads and introducing diverse fan funding options, our platform departs from the conventional ad-centric model that values creators solely based on ad views and follower count, rather than their genuine talent. Together with Simon, Lounges.tv will be shaping the world of online talent."
Read more:
Simon Cowell backs new streaming platform launched to champion millions of content creators