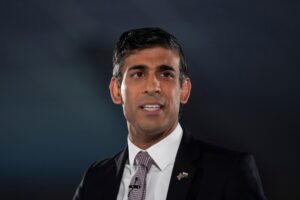 Tories plan stamp duty cut to win over voters
Senior Tories are considering an "aspirational" pledge to slash stamp duty in an attempt to turn around the Conservative Party's political fortunes.
Sir Keir Starmer positioned himself as the heir to Tony Blair after Labour won the previously safe Tory seats of Mid Bedfordshire and Tamworth with swings of more than 20 percentage points in what the party hailed as a "political earthquake". Repeating the swing in a general election would lead to a 1997-style landslide for Starmer.
While Rishi Sunak and his chancellor, Jeremy Hunt, are resisting calls to cut taxes in the autumn statement, senior Tories are weighing up a major offer on tax for the general election manifesto next year, providing the economy has recovered sufficiently.
It is understood that the Tories are discussing whether to go ahead with one of two major pledges for the manifesto next year: cutting stamp duty or abolishing inheritance tax.
One senior Tory said reducing stamp duty would be "aspirational" and boost the economy by making it cheaper to move, while appealing to middle-aged voters who had deserted the party.
Polling from YouGov for The Times showed that although the Tories are supported by 45 per cent of voters over the age of 65 this drops to 30 per cent of those between 50 and 64. Only 12 per cent of 25 to 49-year-olds say they will vote Conservative at the next election.
Figures released by the government in January revealed that residential stamp duty payments raised about £10.1 billion for the Treasury in 2021-22. However, this is understood to have fallen significantly in recent months, whereas revenues from inheritance tax have increased to about £6 billion.
One Tory source said: "Cutting stamp duty would cost a lot of money but it is not a good tax because it disincentives people from moving, which is not good for the economy."
Others have cautioned that any cut could be negated by sellers putting up prices.
Stamp duty discussions are focused on increasing thresholds. At present people begin paying stamp duty at 5 per cent of the value of a property over £250,000, with the rate increasing to 10 per cent beyond £925,000 and as much as 12 per cent for houses valued at more than £1.5 million. Help for first-time buyers is also being considered.
Sunak is under mounting pressure from Tory MPs to act following yesterday's by-election defeats.
In Mid Bedfordshire, Alistair Strathern overturned a bigger majority than any other Labour candidate since 1945. He won by just over 1,000 votes after a three-way race between Labour, the Liberal Democrats and the Tories.
In Tamworth, Sarah Edwards overturned a 19,000 majority. Labour will hope the result is an echo of history — the party won the constituency from the Tories in a by-election in 1996, before sweeping to power at the general election the following year.
Sunak said yesterday that "mid-term elections are always difficult for incumbent governments".
He added that he had set out "long-term decisions that will change our country for the better", citing his scrapping of the northern leg of HS2, a phased smoking ban and reform of A-levels. "That is the change that we're going to bring," he said.
Starmer said: "Winning in these Tory strongholds shows that people overwhelmingly want change and they're ready to put their faith in our changed Labour Party to deliver it."