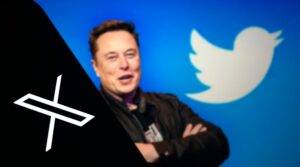 Musk confirms X is set to have two new premium tiers
Elon Musk has said his social media platform X, formerly known as Twitter, will launch two new tiers of premium subscriptions.
"One is lower cost with all features, but no reduction in ads, and the other is more expensive, but has no ads," the billionaire said in a post on X.
It comes as the firm started charging new users $1 in New Zealand and the Philippines for accessing the platform.
Mr Musk did not provide more details on the plans.
New users who opt out of subscribing will only be able to take "read only" actions, such as reading posts, watching videos, and following accounts, the company said in its website.
It is not clear if there will be any free options.
Mr Musk has long said that his solution for getting rid of bots and fake accounts on the social media platform is charging for the service.
Since taking over the firm in October last year he has looked to incentivise users to pay for an enhanced service, which is now called X Premium. Some users now opt to pay $8 per month for the blue check subscription service.
Its "Not A Bot" subscription method aims to reduce spam, manipulation of the platform and bot activity.
He has also tried to woo advertisers back to X with offers of discounts.
Mr Musk's rapid changes, including mass layoffs and disbanding content moderation teams, has led to advertisers halting ads on the service.
He acknowledged that the platform has taken a hit on revenue and blamed activists for pressuring advertisers.
Wider issue
Other big tech companies have also experimented with a mix of ad-supported and subscription plans.
While Alphabet's YouTube has both paid and free, ad-supported ones, Netflix's ad-supported plans are also chargeable, though at a lower price.
YouTube, which like X is populated by content from users, shares a part of its subscription revenue with creators.
X, which also shares some of its ad revenue with content creators, did not disclose if content creators will be paid in ad-free subscription models.
Despite Mr Musk's attempts to generate revenue on X, as the company faced criticism over lax content moderation, advertisers have not come flooding back over concerns their ads might appear next to inappropriate content.
Last week, the European Commission launched an investigation into X to see whether it complies with new tech rules on illegal and harmful content following the spread of disinformation on its platform after Hamas's attack on Israel.
Read more:
Musk confirms X is set to have two new premium tiers