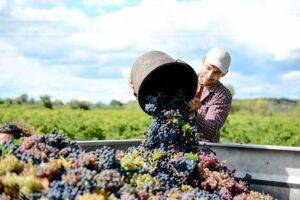 English winemakers set to record record crop after 'exceptional' conditions
Many English winemakers say they are expecting to harvest their biggest ever crop over the next few weeks as a combination of favourable weather conditions and expansion boosts production.
Gusbourne, the Kent-based producer and one of the first major wineries to complete its harvest, said it had gathered its largest ever crop, up 25% on last year as the warm growing season last year meant vines emerged from winter in a healthy condition and then enjoyed favourable weather during the flowering period between April and June this year, producing "an abundance of fruit".
The big brands Nyetimber, Chapel Down and Ridgeview have all said they are expecting their largest ever crop as a result of the weather and investing in additional acreage.
Most production goes to sparkling wines, which will not be available for at least two years, but still wines made this year could be on shelves in the spring.
Ned Awty, the interim chief executive of the trade body WineGB, the national association for the wine industry in England and Wales, said: "This year is shaping up to be a high volume and high-quality harvest. We've had reports about impressive bunch size and weight and ripe fruit from all across the country."
Andrew Carter, the chief executive of Chapel Down, which is two-thirds of the way through its harvest, said he was expecting its output to be "materially larger" than last year's, and the brand's previous record, set in 2018.
The group, based near Tenterden in Kent, has added 200 additional acres to take it to 750 under production. Carter said the weather had also been a factor in producing high-quality grapes.
"The weather this year has been truly exceptional," he said. Carter said the wet July and August had helped vines stay healthy and had not led to problems with disease because the weather had remained cool, and then the warm, sunny September had helped to ripen grapes. "The balance of sugars and concentration of flavours in the grapes is a joy to behold," he said.
Britain's winemaking industry is concentrated in Kent, but vineyards in Essex, Hampshire and Sussex also supply independent retailers and UK supermarkets. British wine is sold overseas and the industry has estimated that exports could be worth as much as £350m by 2040.
Winemakers have been expanding – more than doubling in the past decade – as financial investors bet on a market that has been helped by the changing climate and production becoming more professional.
There are now 943 vineyards across Great Britain, according to WineGB. The industry produced 12.2m bottles in 2022, a big step up on the 5.3m bottles in 2017 as investors have piled into the growing market.
Production is expected to reach 25m bottles by 2032, with 7,600 hectares (18,800 acres) of vines planted – almost double the 4,000 hectares (9,900 acres) under production at present.
Read more:
English winemakers set to record record crop after 'exceptional' conditions