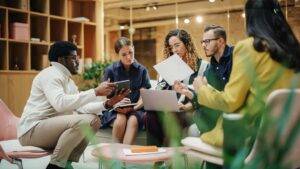 70% of mid-sized businesses on track to incorporate sustainability into business models
New research has found that 70% mid-market firms are currently planning, implementing, or have already implemented a sustainability strategy.
More strikingly, as many as 9 in 10 are planning to invest at the same or an increased rate to put their sustainability efforts into practice, driven by the belief that strong ESG (Environmental, Social and Governance) performance enhances their attractiveness as a business to potential investors, acquirers and partners. But a lack of resource and funding is challenging these ambitions.
The study surveyed listed, private and private equity backed mid-market companies on their attitude and actions towards sustainability. It found that the businesses surveyed consider ESG as a gateway to strategic growth opportunities, access to funds and investment: 63% agreed that strong ESG performance makes their organisation more attractive to potential partners and acquirers and 58% that it makes their organisation more attractive to potential investors. Importantly, as many as 61% acknowledged that without an sustainability strategy they will be in a weaker position to (re)negotiate financing.
What's more, companies with an established sustainability strategy experience major benefits that impacts their bottom line – from improved brand reputation , operational improvements and efficiency (39%) to stronger risk management. Something to aspire to for those still on the journey to develop and implement their approach.
With finance increasingly tied to sustainability goals, what is currently a competitive advantage will likely become an established norm.
Despite progress and ambitions, challenges remain
What's challenging progress is that mid-market companies cited concerns about the prospect of achieving their ambitions. The biggest concerns raised, by 1 in 3 of respondents for holding back their efforts, were lack of resource and funding, a situation that has worsened over the past two years as a result of rising costs. This trend is particularly prevalent among smaller companies: 2 in 5 (40%) businesses with revenues of under £20m flagged a lack of resource and funding as a hurdle as did those with revenues in the range of £20-50m (37%), compared to 1 in 4 (25%) of the largest companies with revenues of >£250m. This infers smaller organisations are struggling to fund their sustainability aspirations and are at risk of falling behind their larger peers.
Callum Bell, Head of Direct Lending and Executive Sustainability Sponsor at Investec Bank plc, who carried our the research, said: "We are encouraged by the actions mid-market companies are taking to incorporate sustainability into their business models. But it is evident that they need support. Collaboration will be key to establish the right financial and strategic solutions to generate sustainable growth. At Investec, we are increasingly in dialogue with clients about growing their businesses by identifying opportunities in sustainability and research like this bolsters our ability to offer solutions and products tailored to their evolving needs".
Read more:
70% of mid-sized businesses on track to incorporate sustainability into business models