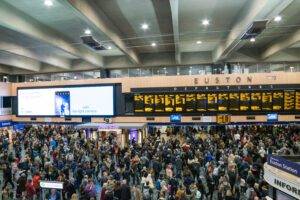 Network Rail warned over 'unacceptable' overcrowding at London Euston
Network Rail is failing to prevent safety risks from "unacceptable" overcrowding at London's Euston station, regulator the Office of Rail and Road (ORR) said.
Passengers waiting on the station's concourse often surge forwards when information boards reveal what platform their train is departing from.
The ORR visited the station last month after analysing CCTV footage of three "incidents of concern" in the summer, which showed "crowding reaching unacceptable levels and a lack of crowd control".
There were "reports of minor injuries" and "the potential for more serious consequences", the regulator said.
The ORR found that Network Rail, which manages the station, had "no recorded, risk-assessed plan" for two pinch points where "crowding is most concentrated".
Some control measures that did exist were found to be "inadequate", while signage and layout to assist passenger flows was "not of an acceptable standard".
The ORR has issued an improvement notice to Network Rail in relation to the station.
Ticket restrictions on Britain's railways sometimes mean peak services – such as those in the early morning and late afternoon – are more expensive and less used compared with off-peak services.
This can result in overcrowding on off-peak trains at major stations.
Simon Bennett, Network Rail's West Coast South route head of stations and passenger experience said: "Managing a popular and busy station like Euston is a daily challenge, a challenge that our dedicated cross-industry team rise to each day, always putting passengers' wellbeing and safety at the forefront of their minds.
"Our team, along with the ORR, want to do more, which is why we have cleared the concourse of shops to make more room for our passengers.
"We've fitted new state-of-the-art information boards, both inside and outside the station.
"We're also now trialling earlier boarding of services with our train operating colleagues to help reduce crowding at peak times.
"The ORR has asked us to look at some other specific areas and our team, along with our train operating colleagues, are already on the case making further improvements."
Euston was the UK's fifth busiest railway station in the year to the end of March 2022, with 23.1m entries and exits.
Read more:
Network Rail warned over 'unacceptable' overcrowding at London Euston