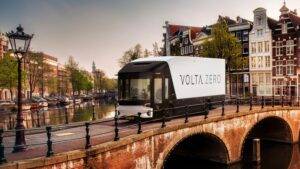 Electric truck maker Volta fails after supply chain breakdown placing 600 jobs at risk
Volta Trucks, the Swedish electric lorry firm with extensive British operations, has announced that it is to file for bankruptcy, putting hundreds of jobs at risk, after a breakdown in its supply chain prevented it from raising sufficient funds.
The decision comes after its battery supplier, the US firm Proterra, filed for bankruptcy protection in August, causing Volta to miss production targets.
Though headquartered in Stockholm, Volta has most of its business and engineering operations in the UK where it employs about 600 people out of a company total of 850 with bases in Warwick, Coventry and Reading. It also has a service centre in north London.
Founded in 2019, it aimed to provide battery-powered delivery trucks for fleets and created what it said was the world's first purpose-built, 16-tonne fully electric truck, the Volta Zero.
It has been conducting customer trials of the truck in the UK and other European countries. It has a central driving position to allow it to be used in both left and right-hand drive countries, along with a claimed range of 200km to allow for multiple drops.
A statement from Volta's board said: "Volta Trucks accomplished a great deal from a standing start in 2019, revolutionising commercial vehicle operations for a sustainable future. However, like all scale-ups in the electric vehicle manufacturing sector, Volta Trucks has faced challenges along the way. The recent news that our battery supplier, Proterra, has filed for . . . bankruptcy has had a significant impact on our manufacturing plans . . . [and] also negatively affected our ability to raise sufficient capital."
Last November Volta raised $633 million and prepared to ship its first trucks. Essa Al-Saleh, chief executive, said it had been targeting an initial public offering next year. The company has said it had an order book of more than 5,000 vehicles. It had picked a factory in Austria to make its trucks and the first deliveries of its vehicles were expected in Sweden this year.
One of Volta's biggest shareholders, Byggmastare Anders J Ahlstrom, said Proterra's filing came "at the absolute worst time when production was to be scaled up," Bloomberg reported.
Volta will file for bankruptcy in Sweden and the main trading entity, Volta Trucks Limited, will file for administration in the UK where insolvency practitioners at Alvarez & Marsal are expected to be appointed as administrators.
Volta added: "The board has not taken this course easily or lightly and is fully aware of the significant impact this will have on the organisation's dedicated workforce, as well as customers and partners. We would like to sincerely thank the Volta Trucks team and are incredibly proud of their pioneering work to deliver such an innovative zero-emission commercial vehicle."
Volta is the latest electric vehicle company to run into difficulties as economic conditions worsen and interest rates rise. Lordstown Motors, a US electric trucking firm once valued at $1.6 billion, filed for bankruptcy protection in June and this week the Chinese firm WM Motor collapsed after having been valued at $2 billion this year.
Read more:
Electric truck maker Volta fails after supply chain breakdown placing 600 jobs at risk