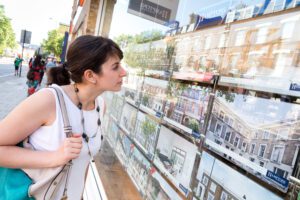 UK house prices rise at slowest post-summer rate since 2008 crash
UK house prices are rising at the slowest rate for this time of year since the 2008 financial crash, according to new data that highlights the impact on the housing market of higher interest rates.
The average new asking price rose by 0.5% in the month to 7 October to £368,231, but it was the smallest post-summer bump since the 2008 crisis, according to property website Rightmove.
House prices dropped by 0.8% in the 12 months to early October as the lower activity fed through, Rightmove said, while the number of agreed house sales fell by 17% compared with a year earlier.
Separate figures from Halifax bank earlier this month showed the fastest fall in annual house prices in 14 years in September.
The Bank of England had raised interest rates at 14 consecutive rate-setting meetings up until last month as it tried to tame inflation. In September, its monetary policy committee finally voted to hold its key rate at 5.25%, but that is still the highest rate since the financial crisis of 2008.
Tim Bannister, who studies property data for Rightmove, said asking prices usually rise after the end of the summer holidays, but that the increase this year was "much more subdued" as sellers adjusted to the weaker market.
He said that estate agents were describing the market as "the most price-sensitive ever". The number of people enquiring about each property advertised on its website was still up by 8% on 2019, before the Covid-19 pandemic.
Renters are being squeezed as landlords try to pass on their higher mortgage costs, amid a continued shortage in housing across much of the country. Separate data from estate agent Hamptons showed that the average rent in Great Britain rose to £1,325 per month in September, up from £1,186 a year earlier.
The steepest rent increases were in outer London, where prices rose by 16.2% on average, compared with 5.2% in Wales, the region with the slowest rental price growth. Overall, rents in Great Britain rose by an average of 11.7%.
Mortgage interest costs for landlords rose by 40% in the year to August, to £15bn a year, according to Hamptons analysis of data from lobby group UK Finance and the Bank of England. The company said interest costs could hit £20bn a year within the next two years, as more and more landlords come to the end of their fixed-rate deals.
Aneisha Beveridge, Hamptons's head of research, said: "Even if there are no further rate hikes by the Bank of England, we could see the amount of mortgage interest paid by landlords exceed £20bn over the next two years. This has the potential to eat up just over half the amount mortgaged landlords receive in rent."
Read more:
UK house prices rise at slowest post-summer rate since 2008 crash