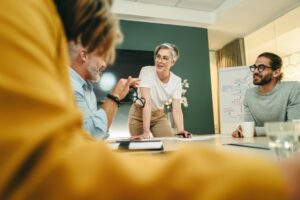 Innovative UK SMEs spend half of turnover on tech to boost productivity
UK SMEs are investing nearly half of their annual turnover on technology to counteract rising costs and retain competitiveness.
That is the findings of the latest Barclays Business Barometer  and according to the bank's research, the most innovative SMEs in the UK are spending 48% of annual revenue on technology, with 45% doing so to increase productivity and 44% to future-proof their business.
Barclays said that 57% of the SMEs it monitors reported an increase in revenue in the latest financial quarter, which is the most for 18 months. The bank also said research of its credit card and debit card transactions showed an increase of just over 1% in the volume of transactions to SMEs in the second quarter of this year compared with the same period last year.
Colin O'Flaherty, head of SME at Barclaycard payments, said: "It's promising to see that SMEs are feeling more optimistic about revenue growth and are eager to invest in cutting-edge technology to future-proof their companies."
Retailers in the are confident about growth over the next year, with 85% reporting a positive outlook, according to Barclay's barometer. It also revealed that 66% of retailers are open to embracing new technology. Dedicated IT teams have been set up by 41% of the SMEs surveyed by Barclays, with an average of 13 people in these teams.
"Retail SMEs in particular have displayed a remarkable agility in adapting to evolving consumer behaviours by adopting emerging technologies – setting the stage for a brighter year ahead," said Barclays.
Separate Barclays research revealed the importance of retail SMEs using technology to reach customers. It found that 70% of consumers use the internet to inform how they shop and make savings, with online grocery websites seeing an increase of 54% in online traffic, with traffic to non-grocery up by 42%.
It also revealed that 93% of retailers believe that harnessing data is key to their future success.
The past year has seen retailers actively investing in cutting-edge technologies to enhance operations – 18% of the SME retailers surveyed have invested in data analytics, and 12% in artificial intelligence and machine learning.
According to a recent report from SME-focused fintech SumUp, UK SMEs take the lead in Europe when it comes to adopting the latest technologies. For example, 90% of UK SMEs now accept near-field communications (NFC)-based card payments, compared with 85% in Switzerland, 78% in Italy, 68% in France and 67% in Germany.
Nina Etienne, global vice-president of marketing at SumUp, said UK SMEs have taken strides in embracing innovation. "The uptake of digital payment tech highlighted in this data demonstrates the adaptability that puts UK SMEs at the forefront in terms of using technology to improve user experience," she said.
"While the economic landscape has created difficulties for small businesses, these statistics offer some insight both into the resilience of SMEs, as they find new ways to improve their business, and an increased trust in digital payments amongst the public, as more transactions take place through contactless methods."
Read more:
Innovative UK SMEs spend half of turnover on tech to boost productivity