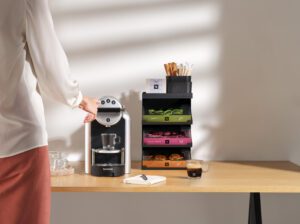 First impressions are everything, make it count
When starting a meeting with a new customer or partner, the first seconds are key to making a good first impression, reassuring others and bringing people together. 'Can I get you a coffee?' is a simple question that tells a lot about a person.
With small businesses often being associated with the personalities of their whole team, it's important for companies to provide their people with exceptional offerings. A key factor is the ability to provide personalised offerings to increase a sense of welcome and belonging – great first impressions are all in the details. With research revealing 92% of employees think coffee makes for more human and professional exchanges, Nespresso Professional provides tailored solutions that lead to unforgettable coffee moments – and the talent does the rest.
Nespresso Professional's exceptional choice of coffee is the starting point to connect with your employees and guests, with a subscription service ensuring small businesses never need to worry about running out of coffee. Small businesses start with their people, and Nespresso Professional's solutions help deliver the ultimate coffee experience for both clients and employees, starting with exceptional coffee breaks at work.
Customised coffee solutions
Nespresso Professional provides personalised premium coffee solutions that are tailored towards small businesses and offer convenience and flexibility, while still maintaining high quality and great simplicity. With customised packages available, each business coffee solution includes coffee machines, coffee capsules and coffee accessories for every sized office. And, care continues beyond the purchase, with small businesses having the opportunity to benefit from a range of after sales services with additional complimentary delivery, as well as after sales services to ensure exceptional quality care from beginning to end.
Taste, quality and simplicity
Every small business deserves the best coffee, and it all starts with choice. Nespresso Professional's wide offering of coffee is the starting point to connect with employees and guests, so they can enjoy a simple, fast and effective coffee solution with the same quality and consistency cup after cup. With a range of 17 coffees, Nespresso Professional answers each need and preferences for all employees – elevating every moment with the exquisite taste of high-quality coffee and a variety of state-of-the-art coffee machines.
Convenient and flexible service
Serving coffee that perfectly matches the employee or guest's taste shows how well you know them, and allowing exceptional coffee breaks at work is the ultimate treat. Nespresso Professional removes the fear of ever running out of coffee, with guaranteed and affordable monthly subscription plans that allow small businesses to easily change their coffee selections, anytime. And, all coffee orders are covered with recurring delivery, while Nespresso Professional takes care of the machine including maintenance and repair at no hidden costs.
Currently, customers can get 40% off Nespresso Professional's Zenius machine, including 150 capsules. More information can be found on Nespresso Professional's website: https://www.nespresso.com/pro/uk/en/small-business-offers?pro.