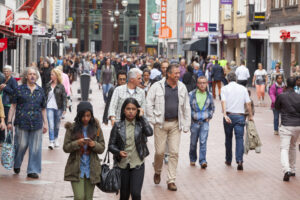 UK economy grows 0.2% in August despite pull from higher interest rates
The UK economy returned to growth in August after the wet weather in July delivered a blow to output, prompting economists to roll back the chances of a recession, official figures revealed this morning.
GDP expanded by 0.2 per cent in August, according to the Office for National Statistics (ONS), in line with City analysts' expectations.
Although output has returned to growth, August's expansion does not recoup losses generated in July, when the economy contracted by a worse-than-feared 0.6 per cent, mainly due to the unusually wet weather in the month deterring consumer spending and construction activity.
Across the three months to August growth came in at 0.3 per cent. Experts tend to focus on the quarterly estimates as they provide a more accurate snapshot of the strength of the economy.
Thomas Pugh, economist at RSM UK, said the return to expansion in August should "allay fears that the UK is slipping into a recession."
Darren Morgan, the ONS's director of economic statistics, said: "Our initial estimate suggests GDP grew a little in August, led by strong growth in services, which was partially offset by falls in manufacturing and construction."
Services businesses, which generate about £2 in every £3 of Britain's GDP, were the main contributors to the economy's summer turnaround, providing growth in the sector of 0.4 per cent.
Construction output, plagued by a reduction in house building in response to the Bank of England raising interest rates aggressively, contracted 0.5 per cent in August. Industrial production was also weaker as it was drawn into a weak global manufacturing cycle.
Britain's economy has outperformed analysts' expectations this year, dodging a much-touted recession, but GDP is growing at a historically slow rate, leading to fears that the country is in the early stages of a prolonged period of stagnant economic activity.
Earlier this week the International Monetary Fund said in fresh forecasts that the UK would be the worst performing economy next year among the G7, growing only 0.6 per cent. Germany is poised to be the laggard this year, contracting 0.5 per cent.
The UK economy has grown faster than Germany and France since the onset of the Covid-19 crisis, however, with GDP 1.8 per cent larger compared with the final months of 2019, revisions to ONS estimates showed last month. Germany, Europe's largest economy, has performed the worst since the pandemic, with output just 0.2 per cent higher.
Inflation, which has gripped households and businesses for two years, fell unexpectedly to 6.7 per cent last month and is tipped to decline to around five per cent by the end of the year.
Jeremy Hunt, the chancellor, said inflation needs to fall back to the Bank of England's two per cent target to "unlock sustainable growth".
Slowing price growth alongside rapid wage increases of more than eight per cent have strengthened families' living standards, a trend which economists think will power an economic recovery over the coming months.
Samuel Tombs, chief UK economist at Pantheon Macroeconomics, the consultancy, said: "Our base case remains that GDP rises gradually in Q4 and into 2024. Prices now are rising substantially less quickly than wages, and households' disposable incomes will be squeezed only gently by higher interest rates."
Others questioned that assessment, highlighting that a deluge of homeowners have yet to shift on to new mortgages with much more punitive rates. Unemployment also rose quicker than expected to 4.3 per cent, according to latest data.
Ruth Gregory, deputy UK economist at Capital Economics, another consultancy, said: "The economy is not in recession, but it doesn't have much underlying momentum either. And the drag from higher interest rates will continue to grow."
Steeper interest rates have held back economic growth after the Bank of England sent the UK's base rate up to a 15-year high of 5.25 per cent to tame inflation. Economists think the damaging effects of the Bank's rate rises will increase over the next year, weighing on consumer spending and business investment.
Read more:
UK economy grows 0.2% in August despite pull from higher interest rates