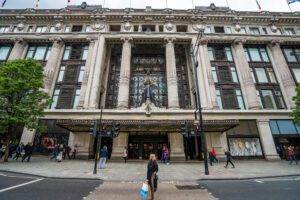 Selfridges losses narrow amid further calls for return to VAT-free shopping
The return of tourists helped narrow losses at luxury department store Selfridges, as the firm posted a 29 per cent rise in revenues to £843m in the year to January.
According to new reports filed on Companies' House, losses before tax at the firm narrowed to £37.9m down from £121.5m during the same period the prior year.
The net loss for the year was £38.9m a stark improvement from an £83.9m dip it posted in the same period last year.
The high street favourite, which has four stores across the UK and Ireland, said the improvement was driven by strong footfall and sales through the company's physical stores, particularly Oxford Street in London and Exchange Square in Manchester.
Last year former owners the Weston family agreed to sell Selfridges Group for around £4bn to a joint venture between Thai conglomerate Central Group and Austria's Signa Holding.
The company owns 18 department stores globally including sites in Ireland and the Netherlands.
The boost comes amid a challenging period for luxury high street stores which have been losing out since the UK government scrapped VAT-free shopping for international tourists — who now favour the likes of Paris and Italy.
In February, Selfridges joined a slew of other high end campaigners such as Burberry to urge officials to reinstate the scheme.
MPs debated the issue in parliament last month, and told the government that Britain is missing out on a £1bn pound "Brexit boost" for so long as it fails to reintroduce the measure.
Read more:
Selfridges losses narrow amid further calls for return to VAT-free shopping