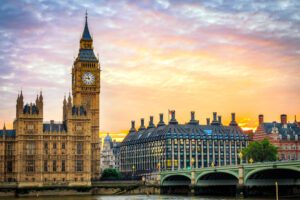 London cements top 10 global position as tech investment hub, trumping European rivals
London has climbed into the top 10 for venture capital investment globally, charging ahead of European rivals as it cements itself as a technology investment hub among US and Chinese competitors, according to a new report.
A new report rated global cities on areas such as deal value and quantity of exits to rank global cities for venture capital investment and London stormed ahead of European peers claiming seventh spot globally, with Berlin coming in as the next highest rated European country taking 16th place.
To cement its leading position, London scored highly on areas such as deal count and exit count, where it secured 11,090 and 608 while achieving an overall development score of 63.8, well above Berlin which scored 51.8.
Among other global leaders, US and Chinese firms dominated the top 10 list with San Fransico claiming the top spot, followed by New York in second and Beijing in third, highlighting a lack of European presence within the rankings.
Khalid Talukder, Co-founder of DKK Partners commented: "As the economy recovers, the tech and fintech industries will act as powerhouses for economic growth, attracting overseas investment, promoting international relations while making the UK an attractive destination for technology development. We have our sights set on cementing ourselves as a tech superpower, developing technology to support key industries such as they payments sector, so it is fantastic to see research support our goal, highlighting us as a key global player."
"To ensure this trend continues, we must capitalise upon our post-Brexit freedoms, allowing the UK to become an attractive marketplace for innovative startups and SMEs who support the growth of these key industries. Businesses must continue to remain robust as we lead the world to a technology fuelled future."
Wayne Johnson, CEO and co-founder of Encompass Corporation, added: "It's encouraging to see London assert itself as a leading technology investment hub on a global scale, with its significant climb reflecting its resilience, appeal and vast potential.
"The level of competition from cities like Paris and Berlin is testament to the global, moving nature of the industry, and maintaining  momentum is essential to its potential being realised. Central to that is continuing to build investor confidence, given the necessity of FinTech and RegTech solutions, and at a time when the technology behind these is evolving rapidly.
"We must continue to drive game changing efficiencies for banks, with automation technology, for example, improving processes and output, while contributing to the UK's aim of positioning itself as a science and technology superpower.
"With the acceleration of innovation in recent years, it is important that support and collaboration remains at the forefront to continue facilitating digital transformation and the development of emerging technologies, which can have a significant impact the UK economy."
Nalin Patel, an analyst at Pitchbook, commented: "There was a lack of European locations when analysing the top 20 developed ecosystems,"
"London was the only European city to break into the top 10, reaching seventh place. In 16th place, Berlin was the only other European city."
Read more:
London cements top 10 global position as tech investment hub, trumping European rivals