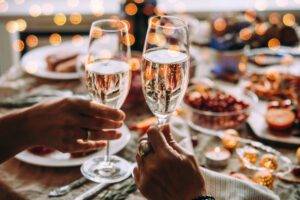 LVMH hit by growth slowdown as demand for high-end drinks falls
Rising inflation, growing global instability and falling demand for high-end drinks have been blamed for a slowdown in growth at the luxury goods multinational LVMH, owner of Christian Dior, Louis Vuitton and Moët & Chandon.
The group, whose brands also include Stella McCartney, Tag Heuer watches and Bulgari and Tiffany jewellery, reported revenue of €20bn (£17.25bn) between July and September – a 9% rise. That compares with a 17% increase in the previous quarter.
One of the worst hit parts of LVMH's business was its wines and spirits division, which includes Hennessy cognac, which fell 14% in the quarter.
The results released on Tuesday suggest the post-pandemic boom in luxury goods, which helped LVMH become Europe's first company to reach a $500bn valuation earlier this year, is starting to ebb.
Pauline Brown, the group's former chair in North America, argued increasing global instability was a factor in the slowdown.
"If I was still sitting on the board at LVMH or any of the other luxury companies, what would really be rattling me is the geopolitical destabilisation around the world," she told BBC Radio 4's Today programme on Wednesday.
Brown added: "Luxury goods and purchases is a psychological purchase. Nobody needs a glass of champagne, nobody needs a watch or a diamond necklace … In order for you to buy it for yourself or as a gift, you really have to be in the right mood state. When we see atrocities happening … the appetite to spend on what might be perceived as frivolous goes way down."
Referring to the fall in the wines and spirits division, she said: "About half of that business is one brand, Hennessy. There are closer to 30 brands in the wine and spirits division. The other half is primarily champagne, which actually grew – not robustly, I think by 3% in the quarter – but I think it was all on the cognac side, the drop, the negative.
"I think that [cognac] was hit hard in markets like China and North America because that aspirational consumer just isn't spending with the same enthusiasm that the high net worth is."
LVMH is the first big global luxury firm to report earnings this quarter, with Hermès and Kering due to report on 24 October.
The group's chief executive, Bernaud Arnault, is the world's second richest man. He had taken the top spot last December, overtaking Elon Musk, but the two swapped places again earlier this year.
Arnault, who co-founded the luxury goods group 35 years ago, has appointed his children to key roles within the business. Earlier this year, his eldest child, Delphine, was named the head of Christian Dior, the second-biggest brand in the empire, while her brother Antoine was promoted to run the holding company that controls LVMH and the Arnault family fortune.
His three younger children also have important jobs within the company. Alexandre Arnault is an executive at Tiffany, Frédéric Arnault is the chief executive of TAG Heuer, while their youngest sibling, Jean Arnault, heads marketing and product development for Louis Vuitton's watches division.
The LVMH results came as accounts for Selfridges showed the upmarket department store chain had experienced a 29% rise in revenue to £844m for the year to 28 January.
The company said the improved performance had been "driven by strong footfall and sales through the company's physical stores, particularly Oxford Street in London and Exchange Square in Manchester".
Alice Price, Apparel Analyst at GlobalData, a leading data and analytics company, offers her view on the news: "After a stellar performance in recent years, LVMH proves that not even luxury brands are immune to the challenging economic environment, with its reported group revenue in Q3 FY2023 growing by just 1.1% to €20.0bn, a marked slowdown from the growths of 16.8% and 13.2% recorded in Q1 and Q2 respectively. Revenue for the nine months to the end of September rose by 10.1%, and while the group affirmed its confidence in delivering continued growth for the rest of the financial year, it seems likely that a similar deceleration could be experienced throughout the brand's final quarter.
"LVMH's slowdown can be attributed to the ongoing inflationary pressures in Europe and the US, which is inhibiting spend among aspirational shoppers, with these regions experiencing organic revenue growth of just 7% and 2% respectively. Previously, these consumers had been protected by savings accrued during the pandemic and government stimulus payments issued in the US, enabling them to splash out on luxury goods. However, with savings beginning to dwindle, exacerbated by the pressure of increasing costs, these products are gradually becoming out of reach for many. Europe's more resilient performance than the US can be attributed to the return of international tourism, with shoppers capitalizing on favourable exchange rates to purchase luxury goods. Japan and the rest of Asia continued to report double-digit growth, with revenue rising by 30% and 11% respectively, driven by the rapidly growing middle class population and pent up demand for high-end goods after many countries in the region eased their lockdown restrictions at the end of 2022.
"The group's Wines and Spirits division was its worst performer, with reported revenue declining by 20.5%, attributed to weak sales in the US and a post-pandemic normalization in demand. In contrast, its Selective Retailing division, which includes Sephora and DFS airport stores, drove growth, with revenue rising by 17.6%. Sephora had a strong performance in North America, Europe, and the Middle East, aided by its unparalleled offering of cult beauty brands. Following the success of Sephora's Westfield London store, which opened in March 2023 and regularly experiences long queues, in July 2023 the group also announced the opening of a second store in the city later this year, giving scope for the brand to gain further market share in the UK.
"LVMH's Fashion and Leather Goods division grew 0.7% to €9.8bn, a significant step back from its Q1 and Q2 performance, when it reported double-digit growth of 17.6% and 15.8% respectively. In order to weather this storm, LVMH must continue to focus on star brand Louis Vuitton and its influence over the lucrative Gen Z demographic. Louis Vuitton should prioritise the launch of innovative collaborations to gain visibility among these shoppers and encourage spend, with its ongoing partnership with artist Yayoi Kusama a notable example, having received widespread attention on social media for its eye-catching polka dot designs."
Read more:
LVMH hit by growth slowdown as demand for high-end drinks falls