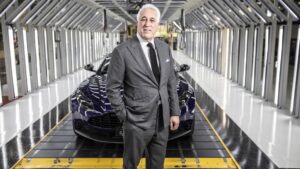 Lawrence Stroll increases Aston Martin shareholding after 'incredible' sales demand
Aston Martin's executive chair Lawrence Stroll has said that demand for the marque's new generation of sports cars has been "incredible," after the Canadian billionaire ramped up his stake.
"I have already invested very, very heavily. I own a Formula 1 team and am the largest shareholder and executive chairman of AML so I don't think I could be any more heavily invested than I am. But nothing good is cheap," Stroll told media as the company announced a return to Le Mans.
Stroll's Yew Tree Consortium, which has built a majority holding in the company, upped its stake to over 25 per cent in early September.
The luxury sportscar maker has enjoyed a share price rally this year to top the FTSE 250's biggest risers, after years struggling under significant debts following a 2018 IPO.
"This company will be a huge success," Stroll insisted. "We already had our DBX7 take 20 per cent of the luxury SUV market in the first two years of production, that's quite a statement to make."
Aston Martin's share price resurgence has come off the back of a series of major announcements, with key players Yew Tree and Chinese carmaker Geely ramping up their investments in the firm.
It has launched a range of new front engine sports vehicles, whilst revving up its push into the high-performance electric market through a £182m deal with the US-based startup Lucid in June.
"With the launch of our new generation front-engined sports cars we see the sales and the demand is incredible so I am firmly committed and believe in this business."
Speaking as the company announced a return to Le Mans 2025, Stroll declared that "the DNA of Aston Martin is racing in the blood, [so it is about] bringing that from the track and into our road cars".
"I am restoring the luxury to the brand but equally injecting performance. Every car we're going to come up with will have that same level of dynamics."
Experts still have questions over the revival though. Philippe Houchois, Aston Martin's first stock analyst, told media and investors on a call that the marque continued to have issues with its debt pile.
"There's still an issue, I think what we expect is that the last round of capital raising that we saw is putting Aston Martin in a position where they can start renegotiating to restructure the debt… And then we'll have to see how cashflow progresses in 2024."
Houchois noted the impact of rising interest rates as the company looks to whittle down its bills. "Keeping in mind of course, the risk is that rates have gone up… I think there will be probably even more pressure on Aston Martin to generate free cash to make sure they can renegotiate debt on better terms."
That said, Houchois currently has a buy rating on the stock and expects the strong performance to continue.
Read more:
Lawrence Stroll increases Aston Martin shareholding after 'incredible' sales demand