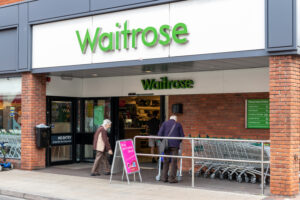 Waitrose in talks with Amazon over online grocery deal
Waitrose is reportedly in talks with Amazon to sell groceries via the internet marketplace, in an attempt to lure in more shoppers and claw back market share.
The Sunday Telegraph reported that the upmarket supermarket, part of the John Lewis Partnership, and Amazon were discussing a third-party deal, after the world's biggest online retailer struck a similar agreement with the supermarket Iceland recently.
Iceland launched on Amazon in mid-September, offering thousands of products to Prime subscribers that the US company delivers from Iceland stores.
Amazon also has third-party deals with the Co-op and Morrisons, selling their groceries on its website and delivering them from local branches.
Waitrose has lost ground to the discounters Aldi and Lidl during the cost of living crisis, and its share of the UK grocery market has fallen to 4.6% from 5.1% at the start of 2020, according to industry data from Kantar.
The supermarket had a 20-year partnership with the online grocer Ocado until September 2020, when Ocado switched to a deal with Marks & Spencer.
Waitrose and Amazon declined to comment on a potential partnership. Waitrose said it was selling online through Waitrose.com, which it has expanded in recent years, and noted it had relationships with the takeaway firms Deliveroo and Uber Eats.
Waitrose and Deliveroo struck a partnership for rapid home grocery deliveries in 2021 after a rise in online shopping during the coronavirus pandemic. Waitrose joined forces with Uber Eats in July to have its groceries delivered to customers' homes in as little as 20 minutes.
Five years ago, there were reports that Amazon had approached JLP to take over Waitrose. However, this claim was denied by the employee-owned group, which also includes the John Lewis department store chain.
Amazon moved into the UK grocery sector in 2016 with the launch of the online delivery service Amazon Fresh. It opened a new Amazon Fresh store on London's Liverpool Street last month, taking the total number of stores in the UK to 19.
Last week, John Lewis announced that its chair, Sharon White, would step down in February 2025 at the end of her five-year term, making her the shortest-serving chair in the company's history. She announced last month that the group's turnaround would take two years longer than planned and cost more than expected, as it reported a fresh loss for the latest six months. John Lewis ditched its annual staff bonus for the second time in three years in March, after a worse-than-expected full year loss of £230m.
Read more:
Waitrose in talks with Amazon over online grocery deal