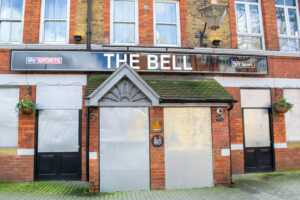 London has most pub closures in first six months of 2023 in England
More pubs closed in London in the first six months of this year than anywhere else in England, a study has found.
The capital lost 46 watering holes up to the end of June, according to data from real estate analysts Altus Group.
Across the UK as a whole, 383 pubs closed in the same period, almost matching the total for the whole of 2022 when 386 were lost.
The government said it was helping venues by providing 50% business rates relief and freezing alcohol duty rates.
During the first three months of 2023, an average of 51 pubs closed down every month, which rose to 77 a month between April and June, according to the study.
Wales lost the greatest number of pubs in the UK as a whole with 52 shutting down.
According to the most recent London Assembly pub audit, the number of venues has declined overall over the past 20 years in most London boroughs. However, employment in the sector has increased as the average pub has become larger.
While the decline in pub numbers reflected an overall UK trend, the number of employees increased by more in London (12%) than the average across the country (3%).
Two pubs a day disappearing in England and Wales
London still losing pubs, restaurants post-pandemic
Pub numbers fall to lowest on record
Alex Probyn, president of property tax at Altus Group, warned more venues would disappear unless the chancellor extended business rates relief beyond spring 2024.
Pubs, as with other eligible hospitality, leisure and retail business currently get a 75% discount off their business rates bills for the 2023/2024 tax year up to a cap of £110,00 per business.
This is set to end on 31 March 2024, while business rates are also set to rise next April in line with September's headline rate of inflation, which could also add more than 6% to bills next year.
"With energy costs up 80% year-on-year in a low growth, high inflation and high interest rates environment, the last thing pubs need is an average business rates hike of £12,385 next year," Mr Probyn said.
A government spokesperson said: "We recognise that pubs are key drivers of local economies, but no national government can control the global factors pushing up the price of energy and other business costs.
"We are supporting hospitality businesses and those in the supply chain across the UK with 50% business rates relief, freezing alcohol duty rates on beer, cider, wine and spirits and reducing employer national insurance. This is in addition to the billions in grants and loans offered throughout the pandemic."
Commenting on pubs struggling with business rates, a spokesperson for the mayor of London said Sadiq Khan had called for "fundamental reform" of the business rates system, including "full devolution of business rates tax policy".
"It's vital that ministers step forward and recognise the value of our local pubs by offering greater support to operators and doing more to tackle the cost-of-living crisis," they added.
Read more:
London has most pub closures in first six months of 2023 in England