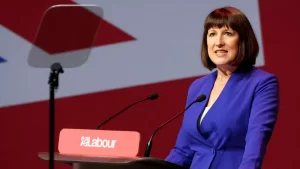 Labour's would recover Covid fraud billions if elected
A Labour government would create an anti-corruption commissioner to recoup billions of pounds lost to fraud and waste during the Covid pandemic, the party has announced.
Shadow chancellor Rachel Reeves will set out the plan in her speech to Labour's conference on Monday.
She is expected to put the cost to the taxpayer of Covid fraud at £7.2bn.
Ms Reeves will also pledge to speed up the planning process for critical infrastructure, if Labour wins power.
Meanwhile, the Labour leadership is set for a showdown with Unite – historically the party's biggest financial backer – over the union's call to nationalise critical infrastructure, starting with privatised electricity and gas networks.
Delegates will vote on whether the party should adopt this policy – which is opposed by Ms Reeves and Labour's leader Sir Keir Starmer – on Monday evening.
Labour's proposal to recover money lost as a result of fraud and waste during the pandemic would bring together HMRC, the Serious Fraud Office and the National Crime Agency.
Ms Reeves will tell the conference in Liverpool that just 2% of fraudulent Covid grants – "with every one of those cheques signed by Rishi Sunak as chancellor" – have been recouped.
She will promise to appoint a Covid corruption commissioner with full powers to take cases to court and "claw back every penny of taxpayers money that they can".
"That money belongs in our NHS, it belongs in our schools, it belongs in our police – we want that money back," she will say.
In a post on X, formerly Twitter, she said: "As Chancellor, I will always treat taxpayers' money with respect."
According to the Guardian, Ms Reeves will also promise a review of sentencing for offences of fraud committed against public services.
Read more:
Labour's would recover Covid fraud billions if elected