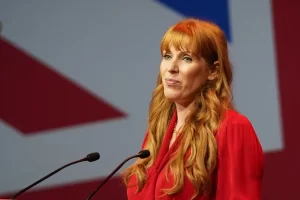 Labour to strengthen workers' rights 'within first 100 days', Rayner says
Labour will implement plans to bolster workers' rights within 100 days of taking office, Angela Rayner has told the Labour party conference.
The deputy party leader told Labour's conference that plans to boost protections for gig workers and enshrine basic employment rights from the first day of a job had not been watered down.
Media reports following Labour's national policy forum this year had suggested the plans had been weakened.
But as Rayner took to the stage in Liverpool fresh from Labour's victory in the Rutherglen and Hamilton West by-election, she insisted the "rumours" were false.
"Be in no doubt – not with Keir and I at the helm," she said. "We'll ban zero-hour contracts, fire-and-rehire, and give workers basic rights from day one.
"We'll go further and faster in closing the gender pay gap, make work more family-friendly, and tackle sexual harassment.
"And we won't stop there. We'll ensure that unions can stand up for their members. We will boost collective bargaining, to improve workers' pay, terms and conditions."
She later added: "But it can only be completed with Labour in power – and as deputy prime minister – I will personally table the legislation implementing our New Deal For Working People, within 100 days of taking office."
Rayner also pledged that a Labour government would "deliver the biggest boost in affordable and social housing for a generation", including new council housing.
She said her party would reform the planning system to speed up building new social and affordable homes, as well as seeking to strengthen renters' rights, and abolishing leasehold.
Trades Union Congress general secretary Paul Nowak said Labour's workers rights plan was the "biggest upgrade in workers' rights in a generation".
He added: "We need employment standards fit for the 21st century so that everyone knows they'll be treated fairly at work with decent pay and conditions.
"Good employers should welcome these plans. The New Deal will help create more productive workplaces and stop rogue bosses from undercutting the best."
Commenting on Reynar's speech, Dave Chaplin, CEO of contracting authority ContractorCalculator said: "Banning zero-hours contracts glosses over the nuanced realities of the modern employment landscape. Angela Rayner fails to grasp the complexities of atypical work arrangements preferred by some workers and whilst an outright call for a ban makes for an easy headline, it is poor policy and the reality is far more complicated.  Whilst such contracts are open to potential abuse which must of course be tackled, when used properly, zero-hours can provide flexibility for both businesses and many workers.
"And, let's not forget that zero-hours workers are just part of the picture and one part of a wider group of flexible workers.  The self-employed workforce, contractors and freelancers, who have chosen to be their own bosses, do not want benefits and do not want rights.   These are a group of professionals and entrepreneurs who should be supported and not punished by red tape and administrative burdens, such as the punitive IR35 legislation, so that they and the businesses who rely on them can thrive.
"Keir Starmer wants to promote growth.  The UK's flexible workforce can be relied upon to help with that growth. Rayner does not appear to have got the memo.
"Shackling the flexible workforce with more legislation impedes growth. Labour needs to support people who want to be their own boss, and not put more friction in the way."
Read more:
Labour to strengthen workers' rights 'within first 100 days', Rayner says