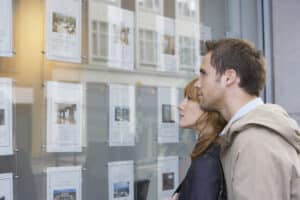 House price falls expected into new year, Halifax says
Falls in house prices will continue into next year, the UK's biggest mortgage lender has said, although the rate of reduction has slowed.
The Halifax, part of Lloyds Banking Group, said that property prices were 4.7% lower in September than a year earlier.
Prices were down 0.4% on the previous month, but that was a much shallower drop than previously.
The lender said high interest and mortgage rates would affect the market.
"Homeowners inevitably become more realistic about their target selling price, reflecting what has increasingly become a buyer's market," said Kim Kinnaird, director of Halifax Mortgages.
But the fact that interest rates would stay higher for longer than many had expected would constrain demand and put "downward pressure on house prices into next year", she said.
Earlier in the week, rival lender Nationwide said buyers who were facing high mortgage rates were choosing smaller, more affordable properties.
Both Halifax and Nationwide surveys use data based on their own mortgage lending, so do not include those who purchase homes with cash or buy-to-let deals. According to the latest available official data, cash buyers currently account for over a third of housing sales.
The drop in prices during September was the sixth consecutive monthly fall, the Halifax said, and meant the cost of a typical UK home was now £278,601. However, this is still £39,400 higher than in March 2020 when prices started to shoot up during the pandemic.
Nicky Stevenson, managing director at estate agent group Fine and Country, said: "The property market is offering a much stronger supply of homes than it did during 2021, when we saw frantic buying activity, and this is giving buyers much more choice and headroom to haggle – though it is also playing a part in pushing down prices during negotiations with sellers."
While property prices were now about £14,000 below the August 2022 peak, they remained 1% higher than in December 2021, when the Bank of England started its run of base rate rises, the Halifax said.
Alice Haine, personal finance analyst from investment platform Bestinvest, said: "The housing market is expected to remain subdued into the next year as the drag effect from the Bank of England's 14 interest rate hikes delivers a heavy blow to affordability levels.
"While some buyers have been forced to reduce the size and value of the home they purchase to afford mortgage repayments, others are abandoning moving plans altogether."
She said some first-time buyers would be happy to see prices fall, and could choose longer-term mortgages to spread out the cost, although that means paying more in the long-run.
Read more:
House price falls expected into new year, Halifax says