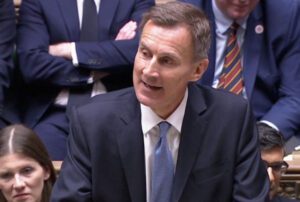 Britain's manufacturers urge Hunt to ditch autumn statement to provide financial solidity
Manufacturers have urged Jeremy Hunt to do away with the autumn statement, insisting that the constant "flip-flopping" on policy is holding back investment and is making the UK "uncompetitive".
The chancellor gives two fiscal statements a year, the budget in the spring with a second statement in the autumn, which is an update on how things are going. However, Make UK, which calls itself the "voice of UK manufacturing", has urged Hunt to return to a single annual fiscal statement.
It blamed "frequent changes to policies", especially around investment and research and development incentives, for having "significantly hampered businesses' investment plans".
Fhaheen Khan, senior economist at Make UK, said: "Manufacturers are clear that many aspects of the . . . tax and regulatory system are not fit for purpose and are failing to promote vital investment in skills, capital and green growth. This is not helped by the fact we have two fiscal statements a year, which hampers businesses' investment planning. We cannot continue with the flip-flopping and policy inconsistency if we are to shake the economy out of its torpor and promote long-term growth."
Should Hunt agree, the government would go back to publishing only one annual economic forecast for the first time since the 1970s. He is due to deliver the autumn statement on November 22.
Make UK, which speaks for 20,000 companies and three million people in the manufacturing and engineering sectors, said a survey of 150 companies had found that almost half thought Britain had an unfavourable business tax and regulatory environment.
Manufacturers' main gripe is about changes to investment incentives in recent years. Over the past three years there have been three different iterations of investment incentive schemes.
Small and medium-sized businesses have had their research and development tax relief cut amid what the chancellor said were "concerning reports of abuse and fraud".
Most respondents to the survey, carried out alongside RSM, the accountancy firm, said it had become more challenging to plan investments.
Read more:
Britain's manufacturers urge Hunt to ditch autumn statement to provide financial solidity