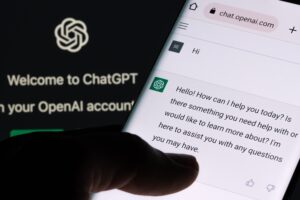 BBC blocks ChatGPT from accessing and using its content
The BBC has blocked the artificial intelligence software behind ChatGPT from accessing or using its content amid copyright and privacy concerns, after concluding that it was "not in the public interest".
The move brings the BBC in line with other content providers, including Reuters and Getty Images, which are trying to prevent AI from misusing intellectual property.
Generative AI can, when prompted, create new text, images, audio and more from scraping other content providers' data. It underpins the chatbot ChatGPT developed by OpenAI, the American artificial intelligence research and deployment company.
Rhodri Talfan Davies, director of nations at the BBC, outlined the corporation's response to AI tools that he said represented a "significant opportunity", as well as a risk to broadcasters. Davies said the BBC was "taking steps to safeguard the interests of licence fee payers as this new technology evolves.
"We do not believe the current 'scraping' of BBC data without our permission . . . to train 'gen AI' models is in the public interest and we want to agree a more structured and sustainable approach with technology companies."
There are several copyright infringement lawsuits against OpenAI from authors who say permission was not sought to use their works to train the AI models.
In April the Information Commissioner's Office, the data watchdog, warned technology companies about using personal data to develop chatbots. Stephen Almond, executive director at the watchdog, said: "There can be no excuse for getting the privacy implications of generative AI wrong."
Media organisations worldwide are trying to work out a strategy that allows them to monetise their content being used to power AI. Peter Church, at Linklaters, the law firm, said: "There are real risks in not taking appropriate compliance measures."
Read more:
BBC blocks ChatGPT from accessing and using its content