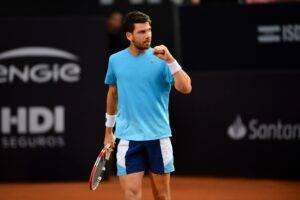 Cam Norrie joins Hydro as sports advisor and investor
Celebrated worldwide for his exceptional fitness levels on the court, British male number 1 tennis superstar, Cam Norrie is thrilled to announce his involvement with global Blood Flow Restriction (BFR) brand, Hytro.
Following on from the exciting announcement of a wider public investment funding round through Seedrs – one that will see the brand rapidly expand their presence in the US as well as begin their move towards the medical market – the tennis sensation has announced his involvement as Pro Sport Advisor and Investor. Having used Hytro products over the last season to prepare and recover during a hectic schedule, Norrie will bring a wealth of experience and a deep understanding of the importance of fitness and recovery from the world of professional sports, in a bid to support the rapid expansion of the world's first BFR wearable.
Cam Norrie, professional tennis player and Hytro Pro-Sport Advisor and Investor said: "I've experienced the incredible benefits of BFR and Hytro wearables first hand, and I'm excited to join forces with the company as an advisor and investor. With Hytro making BFR much easier to deliver, I've been able to work harder between tournaments and recover quicker. After seeing how my team and Dr Warren Bradley have been able to introduce BFR so easily into my own training, it was a no-brainer to come onboard and help them find ways to support even more athletes like me."
The addition of Cameron Norrie as a senior advisor and investor is a significant milestone for Hytro BFR. He is joined by his wider coaching and physio team Julian Romero and Vasek Jursik who are also personally investing in the brand, becoming part of a community that includes other well known athletes such as ex Lions and Wales Rugby Union Captain Sam Warburton with investment in the company, and more than 50 other professional sports coaches from across the industry.
Raj Thiruchelvarajah, CEO and Co-Founder of Hytro, expressed his enthusiasm about the collaboration: "We are honoured to welcome Cam Norrie to the Hytro family. His dedication to his sport and his unwavering commitment to fitness and recovery align perfectly with our mission. It is inspiring to see the reputation we have built within professional sports already, that has seen us work with the likes of Cam and so many other world leading athletes. Together with his help, we look forward to expanding into new targets and territories, as we unlock BFR for the benefit of some many more people worldwide."
Hytro is a pioneer in Blood Flow Restriction (BFR) wearables tailored to enhance sports performance. Over a short few seasons, the brand has established itself as a trusted collaborator with over 60 esteemed professional sports teams across the UK and US including: St Helens RLC, Leeds Rhinos, Catalan Dragons, Bath Rugby, Newcastle Falcons, Newcastle Thunder, Aston Villa FC, Rangers FC, Blackburn Rovers FC, Everton FC, UFC Performance Institute and Alpine Academy.
Read more:
Cam Norrie joins Hydro as sports advisor and investor