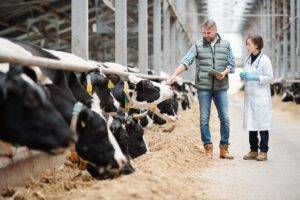 US wants UK to open up its agriculture markets as part of new trade deal
The US is pushing for Britain to open up its agricultural markets to US traders as part of a new economic agreement that would fall just short of a free trade agreement.
Washington and London have begun negotiations over a "foundational trade partnership", which would cover subjects such as digital trade, labour protections and agriculture, according to documents seen by the Guardian and first revealed by Politico.
The partnership would not guarantee any particular levels of access for service providers to offer their products in each other's countries, meaning it would fall short of the full free trade agreement that was promised by Brexit supporters after the leave vote.
The negotiations could run into trouble, especially over agriculture. Previous talks over a free trade agreement stalled in part because the UK refused to provide access to American food products such as chlorine-washed chicken or hormone-injected beef.
A very cute, healthy, pink adult pig with wide pointed ears, standing next to another cute adult pig, looks out at the camera over a low wire, appearing to be outdoors somewhere.
A spokesperson for the Department for Business and Trade said: "The UK and US are rapidly expanding the work we do together across the full spectrum of our economic, technological, commercial and trade relations through the Atlantic declaration. Discussions with the US on next steps under this first-of-its-kind agreement are ongoing."
Sunak is hoping to conclude a free trade agreement with India this year, in what would be the biggest such deal since Britain left the EU and began negotiating its own deals.
According to a government timeline seen by the Guardian, the India deal will remain the priority, but work on the US agreement will begin in earnest in the new year, with a view to completing it before both countries hold their general elections.
One consequence the documents reveal is that work on separate agreements with Canada and Mexico will have to be slowed down.
The major hurdle remains agriculture and the environment department is continuing to insist the UK should not open up to American food products that have been produced to lower regulatory standards. One government source said it would be for the prime minister to decide whether to overrule the environment department or risk the US walking away from negotiations.
Read more:
US wants UK to open up its agriculture markets as part of new trade deal