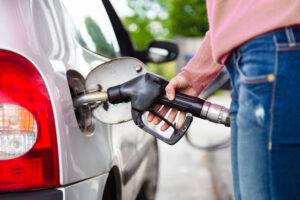 Petrol prices rise for fourth month in a row
Petrol prices have risen for the fourth month in a row, jumping by 4.5p a litre on average last month, the RAC says.
Unleaded went up from about £1.52 to £1.57 in September, pushing the cost of filling a family car to over £86.
The RAC said increased fuel costs were being driven by higher global oil prices, but it also claimed that petrol was being "overpriced".
But independent forecourts said they were "not unjustifiably pricing petrol higher than needed".
The Petrol Retailers Association, which represents independent sellers accounting for 64% of UK forecourts, said margins were "under pressure" due to higher labour and energy costs, and reduced sales.
The cost of living in the UK has begun to ease slightly, with inflation, the rate consumer prices rise at, falling to 6.7%.
But rising fuel prices for both petrol and diesel will increase pressure on household finances.
The RAC said drivers were "sadly really starting to suffer again at the pumps", with its latest data for September showing petrol rose by 4.5p per litre on average in the month, while diesel increased by 8p per litre.
Diesel has risen to £1.63 from £1.54 per litre since the start of last month.
Simon Williams, the motoring group's spokesman, said the RAC's analysis showed that "petrol is currently overpriced by around 7p a litre".
"In the last two weeks the wholesale cost of diesel has become 10p a litre more expensive than petrol, yet the gap at the pumps is only 5p," he said.
"If retailers as a whole were playing fair with drivers petrol would be at least 7p cheaper than it is now, down to around £1.50 [per litre] from its current average of £1.57."
But Gordon Balmer, executive director of the Petrol Retailers Association, hit back at the RAC, saying that margins had "inevitably increased" due to higher running costs.
"Attempting to whip up public anger by suggesting otherwise is deeply irresponsible," he said.
Mr Williams said it was "worrying that retailer margin across the UK is higher for petrol than it should be" following an investigation by the competition watchdog earlier this year into the supermarkets Asda, Sainsbury's, Morrison's and Tesco, which dominate the fuel retail market.
A probe from the Competition and Markets Authority found that weak competition meant supermarket margins on fuel had increased, resulting in drivers paying more at the pumps.
As a result, some retailers agreed to set up a scheme to allow drivers to compare live fuel prices online, and the government has said it plans to make the practice mandatory.
The BBC contacted all four fuel-selling supermarkets for comment. Asda said it remained the "cheapest place for drivers to fill up across the UK", with its unleaded 4.8p cheaper on average.
A Sainsbury's spokesperson said it welcomed "greater pricing transparency in the fuel market" and also claimed it "consistently" offered "among the lowest fuel prices in every area that we operate".
It said with regards to increased margins, it had used profits to absorb inflation "to keep grocery prices as low as possible".
Read more:
Petrol prices rise for fourth month in a row