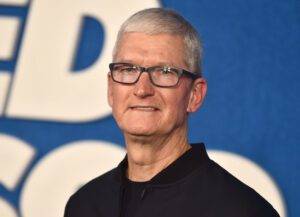 Apple looking to hire AI staff in UK as industry layoffs continue
Apple is set to hire more artificial intelligence (AI) staff in the UK Tim Cook has announced.
Cook, Apple's chief executive, replied to a question about AI ans jobs in the UK by the PA news agency: "We're hiring in that area, yes, and so I do expect [investment] to increase."
Big Tech has cut thousands of jobs since 2022, with layoffs continuing throughout 2023.
Epic Games, the creator of hit videogame Fortnite, announced on Thursday that it was cutting 16% of its workforce, equating to around 900 employees, Bloomberg reported.
Epic announced the cuts in a memo to staff, according to someone close to the matter.
Cook has criticised the spout of mass layoffs across the industry, claiming that any layoffs at Apple would be as a "last resort".
"I view that as a last resort and, so, mass layoffs is not something that we're talking about at this moment," Cook said in an interview with CNBC.
Despite mass layoffs seen from tech giants like Meta, Amazon and Google – hiring and investment into AI has been on the rise.
Hiring in generative AI peaked in December 2022 with 3598 hires globally, the month following the release of OpenAI's generative AI chatbot released, according to GlobalData's Job database.
The wildly popular chatbot gecorded 100 million monthly active users in January, as people flocked to the app for help with editing documents, creating code and more.
Throughout 2023, generative AI hiring stayed at a steady climb until a huge spike 3,117 hires in June, falling just below the peak of December 2022.
Claire Trachet, CEO and founder of business advisory, Trachet, discusses this latest trend and what this means for the UK: "Apple's interest in the UK for AI expansion highlights that the UK possesses a great pool of talent and is a leading global hub for AI innovation. Following the UK implementing new principles to safeguard AI, this places Britain in an optimistic position ahead of its global safety summit in terms of leading in regulation and innovation.
"Apple's tactic is a step in the right direction, as mass layoffs obviously risk damaging company culture to the point of no return and they can make it incredibly difficult to attract great talent that will help the business thrive. By hiring staff across an emerging sector, Apple shows that it is prioritising workers, innovation and the safeguarding of AI technology.
"As Cook mentioned, cutting down staff should always be the very last resort. Instead, companies should be mindful of their budgeting and think about reallocating all of their resources where they can, based on what they have versus what they can deliver, in terms of tools, people and organisation. And through this, after three months, they will slowly see the benefits, and by six months, the company can be on a completely different playing field.
"Businesses must also question whether they have the correct in-house team to not only implement this kind of technology, but also manage the risks that come along with it. Instead, businesses could look at other ways to manage cash flow and growth, for instance, looking to their CFO, whose experience should anticipate the hurdles the business may face and help create optionality."
Read more:
Apple looking to hire AI staff in UK as industry layoffs continue