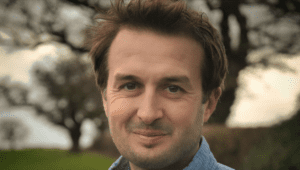 Want to know how to change an entire industry? Ask Guy Fennell, Founder and CEO of Pura
Changing an industry to be a force for good comes from knowing that something is inherently broken and needs fixing.
It wasn't until Guy and Abi Fennell were thinking of starting a family that they became aware of the damage that the baby industry creates – they were appalled at the amount of nappies that ended up in landfill and wipes from leading brands, that still to this day, contain plastic.
After running a wholesale business, buying branded FMCG products and supplying them all over the world, Guy felt certain that they had the right knowledge, contacts and drive to challenge the industry.
Just three years old, Pura is now knocking household names off the shop shelves and gaining much deserved respect. The brand has carried on in the face of much adversity – it launched during the global pandemic in June 2020 – innovating and paving its own path, driven by its belief that baby care should not harm the planet.
Guy takes the time to share Pura's journey with us …
In terms of timing the market, how did you know it was the right time?
We started research about five years ago now and there was a lot of change happening at that time. Greta Thunberg had come on the scene and David Attenborough and the BBC were making some fabulous documentaries, such as War On Plastic alerting us to the devastating impact of plastic pollution. I just felt that there should be a real change. 90% of wipes in the UK contain plastic, and 3 billion nappies go into landfill annually. Looking around at other emerging brands and current brands that were adopting new methods, I just felt in my bones that this was the right time to drive change in the baby industry.
How long was the process from idea to launch?
It felt like ages! But in fact, it was just over two years. Designing a wipe for UK families that contained zero plastic and that wasn't imported with a huge footprint from China was a huge challenge. We also needed to ensure it was high quality and good for babies' skin. Our research went on and on – getting the formulation right, getting the wetness right, the size of the wipe, how the wipe comes out, the packet …
You brought Amanda Richards in as CMO from day one, what was behind your decision there?
Alongside R&D, getting our brand proposition right was crucial. Amanda is our CMO and a highly skilled marketing leader with 26 years of global brand marketing, media and innovation experience in FMCG and Health Tech for Unilever and Philips. And, after meeting her, I didn't think that there was anyone better suited for the role and to bring Pura to life. How we talk to parents is so important. Instead of Abi and I on a soap box with a megaphone, calling out the issue of plastic pollution, Amanda helped us connect with the right creative agencies who could help us navigate the marketplace and create a tone of voice to get our message across without being preachy or patronising.
What is the attitude of your customers towards sustainability?
Research shows that families genuinely want to make the eco-friendly choice, yet when they hear eco-friendly, they assume it's 25 to 45% more expensive than mainstream brands. So for us to succeed, we have to 'democratise eco' and make these products affordable for everybody.
Disrupting a marketplace is no mean feat, how is business going?
We've got tremendous listings here in the UK with the likes of Asda, Tesco, Boots to name only a few. And we've just recently launched in Walmart and Amazon across the US – so we're doing something right! We will continue disrupting the market with baby products that are high quality, eco-friendly and affordable.
What keeps you striving forwards?
Our desire to really make a genuine change. Each time we get a new wipe listing, for example, we see it as a major success in providing parents with an affordable alternative to plastic wipes. This just pushes us forward to do more. So, you know, we've just got to stay nimble and make decisions fast. More and more retailers in the UK are banning plastic wipes. Tesco's have banned plastic wipes on the shelves, Boots have banned them too, and more and more retailers will follow.
How do you rally your team?
I keep saying to the team in the office, it's as if we're a little electric speed boat and these big brand owners are in massive tankers. So they just take a very long time to make decisions or bring new products to market, while we are fast and agile and can speed ahead. This can mean life at Pura is very fast paced. When it comes to month end, quarter end, or year end, and we need to put in extra hours everyone is willing. But then, on the flip side, if the weather's nice on a Friday and we've done well that week, we might take the afternoon off. It's all about give and take. Everybody in the business has share options too, which was important to us.
Have you noticed a change in your business since becoming a B Corp?
Sustainability is at the core of every decision we make as a business and being a certified B Corporation means we've been officially acknowledged for meeting the highest standards of social and environmental impact. In simple terms, we've been recognised for putting people and the planet first!
The global B Corp certification scheme was created to people give transparency on the ethical, social and environmental performance of brands.
During the assessment, companies are scored on the positive impact they have on the planet, their staff and the communities they operate in. Based on the B Impact assessment, Pura earned an overall score of 82.1! The average score for businesses who complete the assessment is currently just 50.9.
As a B Corp we'll be held accountable as we continually push ourselves to improve our impact, measured through our B Impact Assessment score every three years.
How do you stay on top of who your customer is?
Ongoing market research confirms that our core customer group is young parents who genuinely care about the planet and want to leave it in a better place than it is today. But they are super busy and face time and money constraints. That's where we come in to provide an affordable alternative that suits their busy lifestyle and helps them take care of their families and their planet at the same time.
Outside of physical sales, how are you actively promoting change in the industry?
Our whole team is invested in achieving great things – we convinced Mumsnet to stop advertising brands who have plastic in their wipes, which is a mega step forward.
We're also educating people on the benefits of nappy recycling through our Pura NappiCycle partnership. Nappy recycling is already happening in Wales and, last year, we held a trial in Bristol. We saved an impressive 6.3 tonnes of nappy waste from landfill – that's the equivalent of more than 31,000 nappies – it was insane! The used nappies were given a second life and repurposed as engineered fibre for road surfaces, notice boards, panelling, insulation under laminate flooring. It was the first trial of its kind in England, and it was supported in an awareness drive by ASDA. We will conduct another, larger trial, next year. The success of this phase of the trial is just the start – we want to bring a nappy recycling service to households throughout the UK. This requires investment and government backing which, as a business, we will continue to lobby for, for the sake of our children's futures.
Is more of your marketing budget spent on educating your customers as opposed to actually talking about the products themselves?
Yes – definitely. A lot of our social media and our paid digital is pushing the educational aspects, but we're trying to be different and clever about how we do it as well. For example, we've also got a children's book, Lily and The Wipe Monster where the lead character, Lily, is taking on fatbergs – masses of congealed grease and non-biodegradable matter including plastic wipes found blocking in sewers and drains. We gift our children's book to nurseries across the UK and when anyone takes out a nappy or wipes subscription on mypura.com, they also get a copy as well.
What elements have been crucial to you in starting up with a mission as big as yours to disrupt an industry?
Firstly, ensuring we've had the funds to grow. We've got a fabulous CFO, Andy Johnson, he's the former FD of AO.com. His job is to make sure that we've always got the right level of cash and that funding is there to enable us to grow and develop new categories. In February 2022, we received £4.25m through a funding round led by Maven Capital Partners. We're raising funds again now, and we'll be completing this raise very soon.
Secondly, making sure that the team members around me aren't burning out, because taking on the big boys can be relentless! I'm constantly making sure that the team is on board and that we're recruiting the right people at the right time. On that note, another sign of growth is that we're attracting the best people within the business, which is then helping us grow further and that's what makes me very proud.
Any other brands out there at the moment that you're loving seeing come to life in the sustainability space?
Yes – a brand called Wild. They're in the refill deodorant business and they're doing what Pura is doing in the baby sector and taking on the big boys. They're doing really well, their ethos and sustainability mission is pretty much mirrored to ours, we're two brands aligned but in two different categories.
Read more:
Want to know how to change an entire industry? Ask Guy Fennell, Founder and CEO of Pura