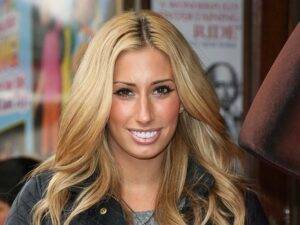 Stacey Solomon to become official Business Partner and Investor of British haircare brand, REHAB
Rehab. the innovative haircare brand which has been making waves in the industry since its launch last year has announced that TV personality Stacey Solomon has joined the company as a partner and Investor.
The female-founded company aims to transform tired hair to its full healthy, glossy potential with their effective, eco-friendly products. Key best-sellers include their hair oil, heatless curler and shampoo sheets.
REHAB. founders, best friends and mothers Vicky Ellis & Anastasia Tozer are absolutely thrilled to be the first brand Stacey has personally invested in.
Talking about the new role, Stacey Solomon said:  "A long while ago, I used a small business's haircare product and absolutely loved everything about it. I met up with the women who started it and fell in love with their collection, work ethic, company values & morals and their ideas for the future.
Supporting small businesses is so important to me. I've seen how hard people work to get their products out there and be seen, and often there's so only far you can go without the right financial support and audience reach.
For the first time in my career, I have decided to invest my own money into a small business that I believe in so much. I can't put into words how incredible it feels to say that I am going to start a whole new chapter in my life, championing incredible women in business.
I'm so excited to say that as of today, I am officially a co-owner of Rehab."
Vicky Ellis & Anastasia Tozer, Rehab. Founders comment:  "As two best friends who had a vision to create an eco-conscious haircare brand, we've been incredibly proud of REHAB's rapid growth since we launched in 2022.
From multiple sell-out products to working with content creators across the globe, we want to thank all of our customers for believing in and supporting our small business.
Having sent Stacey some of our products to try last year, we were thrilled to hear how much she loved them. On top of this, she engaged entirely with our company ethos and everything we stand for as female business owners. Therefore, it's no surprise we felt Stacey's greater involvement was the perfect alignment for the brand's future success.
To be the first brand Stacey has personally invested in is an absolute honour.
We've been working on a number of new product launches behind the scenes and cannot wait to reveal all later this year!".
Read more:
Stacey Solomon to become official Business Partner and Investor of British haircare brand, REHAB