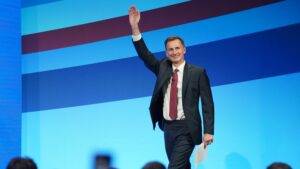 Key Points from Jeremy Hunt's Conservative Party Conference speech
In a speech to the Conservative party conference in Manchester Jeremy Hunt has laid out his key themes for the coming year.
Firstly he said he wanted to reduce the number of officials working in government by 66,000, saving a billion pounds a year.
Hunt said it was part of a wider productivity drive and civil service reform plan to reduce the size of the state and improve efficiency.
"We have the best civil servants in the world and they saved many lives in the pandemic by working night and day," Hunt said.
"But even after that pandemic is over we still have 66,000 more civil servants than before.
"New policies should not always mean new people. So today I'm freezing the expansion of the civil service and putting in place a plan to reduce its numbers to pre-pandemic levels."
Hunt said that voters would face an "elemental choice" at the next election between "sound money under the Conservatives or run out of money under Labour".
He highlighted Labour plans to borrow £28 billion to invest in the transition to net zero, arguing it would lead to higher taxes in the long term.
"Borrowing on that scale risks fuelling inflation and keeping interest rates higher," he said.
TV & Film production
Hunt, a former culture secretary, said he wants to see Margot Robbie draped in a Union Jack for the Barbie sequel as he talked up the strength of the country's film and TV sector
The chancellor — who told delegates that Britain is a global leader in sectors of the future such as offshore wind — noted the role of the UK in Greta Gerwig's fantasy comedy which is estimated to have grossed $1.34 billion worldwide.
"We are Europe's biggest film and TV production centre," Hunt said to applause from the floor. "Next time I want to see Barbie wearing a Union Jack because that too was filmed in Britain."
Hunt, who ran the culture department for more than two years from 2010, used his spring budget to improve the tax breaks available to studios such as Barbie producer Warner Bros Discovery if they produce their films in the UK.
Benefit claimant crackdown
Hunt said it was unfair that someone who "refuses" to look for work "gets the same as someone trying their best".
The government will crack down on those claiming benefits who do not actively seek work, said Hunt.
He also announced the government would replace the existing Work Capability Assessment and the sanctions regime.
He claimed 100,000 people leave the workforce every year to live on benefits.
The chancellor spoke of his pride about living in a country with "a ladder everyone can climb, but also a safety net below which no one falls".
He added this safety net was part of a "social contract" dependent on "fairness to those in work alongside compassion to those who aren't".
"From last year for the first time ever you can earn £1,000 a month without paying a penny of tax or national insurance," he added.
Labour government 'will increase debt'
A Labour government will lead to higher taxes and higher inflation, the chancellor said.
Opposition plans to borrow £28 billion to invest in the transition to net zero will increase government debt, Hunt added.
"That means higher taxes, higher mortgages and higher inflation for families. That's not an economic policy. It's an economic illusion."
Hunt said public spending was growing faster than the economy.
"We need a more productive state, not a bigger state," he said.
Hunt suggested the UK could stabilise government spending as a proportion of GDP if public sector productivity increased by 0.5 per cent every year.
John Glen, the chief secretary to the Treasury, will review how this can be done, he added.
Minimum Wage rise
Hunt also confirmed the government will accept advice to raise the living wage to at least £11 pounds an hour up from £10.42. The change will come into effect in April 2024.
Speaking to the conference, the chancellor said: "That is a pay rise for nearly two million workers and [will make] the wages of the lowest paid over £9,000 higher than they were in 2010 because if you work hard, a Conservative government will always have your back.
"We promised in our manifesto to raise the national living wage to two thirds of median income, ending low pay in this country."
Jeremy Hunt, who last spoke to the conference five years ago as foreign secretary, started his speech with a joke that Rishi Sunak was doing a good job at "getting the over-50s back into work".
The chancellor followed this up with recently revised ONS growth figures showing the UK had been one of the best-performing European economies since the pandemic — previous figures had shown the UK at the bottom of the list.
Hunt said he and Sunak aim to make the UK the world's next Silicon Valley and praised the tech industry as well as successes with Covid vaccines.
Speaking about the chancellors speech, Rain Newton-Smith, CBI Chief Executive, said:   "The Chancellor is right to highlight the sound fundamentals of the UK economy and to set out a positive vision for the UK on a global stage. Amidst fierce competition for investment, we need to be bold in championing the UK's pro-enterprise credentials and commitment to research and innovation.
"With limited fiscal firepower at its disposal, the Government must focus on stability and predictability to tip the balance for investors. Instead of mixed messages, we have to press ahead with delivering our net zero commitments to unlock serious levels of business investment.
"Tackling inflation might remain the number one priority, but there's more to do to get the economy firing again. Government and business need to pull in the same direction on tax, investment and big growth opportunities to break the low growth cycle and deliver prosperity for all."
Read more:
Key Points from Jeremy Hunt's Conservative Party Conference speech