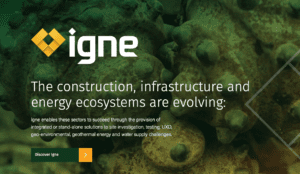 Igne goes live – merging six brands into one to re-shape the pre-construction services industry
In a transformative development for the construction, infrastructure and energy sectors, Igne emerges as a result of the consolidation of industry titans with over 350 years of combined experience, who are determined to reshape the sector's approach to operational resilience, affordability and sustainability.
The six companies that have now merged to form the foundation of Igne are renowned for their excellence in delivering critical services, and are listed as follows:
SafeLane Global's UK-based unexploded ordnance business in Gillingham, with a rich history of providing exceptional UXO management services
WB and AD Morgan, who are recognised for their expertise in water well, geothermal and complex drilling services
Raeburn Drilling and Geotechnical, including Raeburn Drilling Northern, with its strong track record in site investigation
Terra Tek, one of the largest providers of in-situ and laboratory geotechnical and chemical testing services in the UK
Allied Exploration & Geotechnics, specialists in ground investigation
DTS Raeburn, boasting extensive experience in geo-environmental services
This new entity is a testament to the industry's commitment to evolution and excellence. By combining the strengths of these leading companies, Igne is uniquely positioned to deliver integrated solutions that address the multifaceted challenges within construction, infrastructure and energy ecosystems. Officially launching today, 2nd October 2023, Igne's mission is to enhance the built environment, foster sustainable communities and drive positive transformation.
SafeLane's international land and marine divisions will retain the SafeLane Global brand, while its German operations will continue as SafeLane Deutschland.
Rob Hunter, CEO at www.igne.com, spoke about the launch: "Igne is not just a merger, it's a promise to redefine how we deliver services to our clients. By combining the strengths and talents of multiple industry leaders, we are now better equipped than ever to provide a holistic, integrated approach to addressing the complex challenges within the construction, infrastructure and energy sectors. This merger signifies our commitment to innovation, sustainability and excellence, and marks the beginning of a new chapter in our journey. By delivering our collective expertise and solutions through one supplier, not many, the formation of Igne will enable us to shape the future of these vital industries, and we can't wait to see what the future holds."
Read more:
Igne goes live – merging six brands into one to re-shape the pre-construction services industry