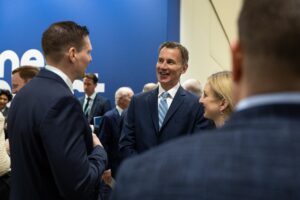 Hunt tells jobless: Make more effort to find a job or face benefit cuts
Tens of thousands of benefit claimants will face lower payments if they fail to look for work, under a clampdown to be announced by Jeremy Hunt.
In a move to create a dividing line with Labour, the chancellor will set out plans to reduce state support for unemployed people who do not actively look for work or fail to accept job offers.
The sanctions regime will form part of a package of welfare measures to be announced by Hunt in next month's autumn statement.
About 90,000 people who have been sanctioned for failing to look for work will find it harder to make new claims for universal credit. The move is designed to focus on those who do not "engage" with job centres or attend appointments with work coaches.
At the same time Hunt will announce that the government has accepted a recommendation from the Low Pay Commission to increase the national minimum wage from £10.42 to at least £11 an hour. The chancellor will say that the decision will benefit two million of the lowest-paid workers as part of a target for the national minimum wage to reach two thirds of median hourly pay by October next year.
But in an attempt to make welfare reform an issue in the general election he will tell the Conservative Party conference that at the same time he will make it harder for people to claim benefits if they refuse to take "active steps" to move into work. He will argue that while the benefits system needs to act as a "safety net", since the pandemic too many people were leaving the workforce "for a life on benefits".
He will say: "Paying for that safety net is a social contract that depends on fairness to those in work alongside compassion to those who are not. Since the pandemic, things have been going in the wrong direction. While companies struggle to find workers, around 100,000 people are leaving the labour force every year for a life on benefits. As part of that we will look at the way the sanctions regime works. It is a fundamental matter of fairness."
Government sources said that details of the sanctions regime were being finalised between the Treasury and the Department for Work and Pensions. "There are too many people who can work but are choosing not to," they said. "It is a problem that has been growing since the pandemic."
Hunt is not expected to announce any tax cuts today despite calls from the right of the party. Michael Gove, the levelling-up secretary, said he wanted to "see the tax burden reduced before the next election", adding he favoured tax cuts for working people over scaling back inheritance tax.
Read more:
Hunt tells jobless: Make more effort to find a job or face benefit cuts