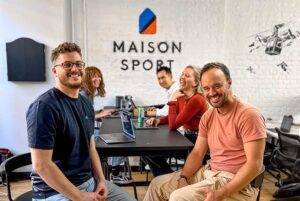 Snowsports Platform Secures £2.5million in Series A Funding Round to Fuel European Growth and Enhance Customer Experience
Maison Sport, the leading connecting independent ski and snowboard instructors with snowsports enthusiasts, today announces it has successfully raised £2.5million in its latest investment round, with a further £500,000 due to close within weeks.
The series A funding round was led by Alp Invest, a Swiss based family company, which sees them join the company as shareholders alongside other notable investors including Gareth Williams (founder of Skyscanner), Kevin Byrne (Founder of Checkatrade) and Lorenz Bogaert (Founder of Netlog).
In addition, Luke Steyn, a former Winter Olympian and property investor, has joined Maison Sport's board of directors, bringing valuable expertise and strategic insights to support the company's growth trajectory.
The investment marks a significant milestone for Maison Sport, allowing the company to accelerate its expansion across Europe and empower more instructors to operate independently on its innovative tech driven platform. The company is present in over 400 resorts with over 1,300 trusted, qualified instructors across France, Switzerland, Italy and Austria. Their goal is to become the largest seller of snow sports activities worldwide within the next five years.
With this funding, Maison Sport will focus on enhancing the customer booking experience through a large overhaul of the platform. The site will focus on personalised user journeys and providing a seamless and enjoyable experience for both new and experienced skiers and snowboarders. This includes the roll out of sophisticated AI and customer service robots which will use intelligent aggregated data capture to be the leading AI expert on snowsport instructor bookings.
As a result of this funding round, Maison Sport's headcount is set to exceed 50 employees by the end of the year, allowing the company to provide enhanced support to both instructors and customers. Furthermore, Maison Sport anticipates forecasted revenue to surpass £13 million for the 2023/2024 season, reflecting the growing demand for its platform and services as customers turn away from traditional, impersonal ski schools.
"We are thrilled to have secured £2.5million in funding, which will play a pivotal role in fueling our European growth and transforming the customer booking experience," said Nick Robinson, Former GB skier and CEO at Maison Sport.
"The appointment of Luke Steyn will drive our vision to be Europe's largest instructor booking platform. In addition, this investment will enable us to empower more ski and snowboard instructors, giving them the freedom to work independently while connecting them with passionate individuals eager to learn and improve their skills in a friendly and tailored environment. We are grateful to our investors for their support and trust in our vision and we are excited for the future."
In addition to its commitment to driving growth and more sophisticated tech lead booking journeys, Maison Sport remains dedicated to social responsibility. The company continues to donate a percentage of its total revenue to Snow Camp, a charity that provides skiing opportunities to individuals from disadvantaged backgrounds. Through this partnership, Maison Sport ensures that skiing is accessible to all, creating a more inclusive snowsports community.
Read more:
Snowsports Platform Secures £2.5million in Series A Funding Round to Fuel European Growth and Enhance Customer Experience