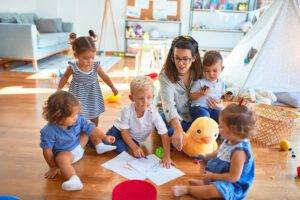 Childcare costs 'soaring by £600-plus a month' as staff are make office return
Parents of nursery and primary school-age children are facing more than £600 of extra childcare costs a month, a study has found, as employers demand staff spend more days in the office.
More than half of parents said they had come under increasing pressure to increase time spent at their desks, in response to a survey by the flexible childcare provider Pebble.
The move by employers to issue new return-to-office mandates in recent months is resulting in higher childcare costs equating to an average of an additional £664 every month, according to a survey of 2,000 parents.
Employers were found on average to be asking their staff to return to their desks for an additional two days each week, putting pressure on family finances amid the cost of living crisis.
Sarah (not her real name) works in financial services in Scotland, and is struggling with the cost and logistics of childcare after her employer ordered all staff back to the office for four days a week, up from the previous three-day mandate.
"Nobody is happy about it, never mind working parents. It doesn't make sense as the evidence shows working from home is very productive, while the extra time with the family was a no-brainer," she said.
Sarah and her husband live in a rural area with no family nearby and limited childcare availability, the cost of which she described as "horrendous". She is now looking for a job offering more home working.
"People reckon the company is going in the direction of five days in the office and I just can't do that with the many years ahead of me with children in primary school," she said.
Two in five parents told Pebble, which enables ad hoc bookings at nurseries and other childcare locations, they were struggling to afford additional childcare costs. Half of those surveyed said they expected to quit their current roles in order to find jobs offering more remote working.
Meanwhile, more than a third of parents surveyed said they had already changed jobs to avoid office time.
Large corporates have started to call an end to the more flexible working patterns which followed the pandemic, led by big tech firms including Amazon, Google and Meta, and banks including Citigroup and Lloyds.
Since the end of the summer, Lloyds has been encouraging staff back to their desks, and it currently expects workers to attend for two days a week.
Under a new flexible working policy, the lender said it was offering compressed working arrangements to parents and carers, with the option to squeeze a five-day working week into four.
However, one Lloyds employee, who did not want to give their name, complained of a lack of flexibility.
"I have to work Tuesdays and Wednesdays in the office, which are not days I would have chosen due to childcare reasons, and I have to work 9-5," they said.
They claimed this was causing worry about what to do once their child starts school next year: "Having to work in the office means I will have to pay for breakfast club, and after-school club, but this still doesn't cover the time it will take for me to commute. I'm at a loss as to what I can do."
Some parents may have benefited from reduced childcare costs when they were required to work from home during the pandemic, but many are now struggling to find adequate and affordable care, according to Lance Beare, the chief executive of Pebble.
"We've seen increases in fees – due to cost of living pressures – and of course some childcare settings have closed due to the increased financial pressures," he said.
"Forced office rollbacks means the pressure is on for parents to secure fixed provision and to commit to higher fees consistently."
The impact of rising childcare costs was highlighted by the campaign group Pregnant Then Screwed, which surveyed more than 11,800 parents.
It found that families with an annual household income under £50,000 were being hit the hardest, prompting a fifth of parents in such households to leave the workforce.
Almost two-thirds (61%) of parents with children under five said they or their partner had reduced their working hours as a result of childcare costs.
Meanwhile, 41% said childcare fees had risen by between 5% and 10% in the past 10 months, and a further 14% said their nursery fees had gone up by more than 10%.
Read more:
Childcare costs 'soaring by £600-plus a month' as staff are make office return