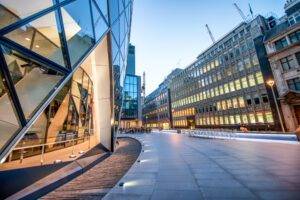 Meta pays £149m to end lease of London office without moving in
Meta, the owner of Facebook, has paid £149 million to surrender lease on a London office block having not moved in any staff two years after signing the deal.
The American social media group's UK division is handing back the keys to the eight-storey block near Regent's Park, which it took on in 2021 at £21 million a year. The 20-year lease of 1 Triton Square to the Silicon Valley company was lauded at the time as a vote of confidence in London's resilience after the Brexit and pandemic.
A subsequent downturn in big tech has led Meta to axe thousands of jobs worldwide, while the shift to working from home and hybrid working has also reduced its office space requirements.
It is understood that Meta had lined up BDO, the accountancy firm, to take on the lease of the 310,000 sq ft office, but British Land, the landlord, blocked the deal. Instead, Meta, which never fitted out the block, let alone occupied it, has paid the equivalent of seven years' rent to escape the lease.
It has a second London office building nearby, at 10 Brock Street, where staff occupy all ten floors, and a campus in King's Cross.
Meta said: "The past few years have brought new possibilities around the role of the office, and we are prioritising making focused, balanced investments to support our most strategic long-term priorities.
"We remain firmly committed to London, as evident by the recent opening of our King's Cross office, further anchoring our local footprint."
The exit payment was revealed in a trading update by British Land, which intends to turn the building into laboratory space. Analysts expect the conversion to take two years to complete, by which time 1 Triton Square will have lain empty for at least eight years.
The FTSE 250 developer and landlord began a four-year, £200 million redevelopment of the office in 2017, turning it into a net-zero building with the sustainability credentials that company renters increasingly demand.British Land let the offices to Dentsu Aegis, but the Japanese advertising group never moved in, and the landlord found Meta to occupy the block instead.
Britain's return to the office has stalled this year, with occupancy levels averaging about 30 per cent, according to data from Remit Consulting — about half the levels before the pandemic.
Given the record shortage of lab space in the UK, British Land is unlikely to have trouble finding a life sciences tenant. Analysts at BNP Paribas Exane estimate that the landlord may even be able to achieve 50 per cent more rent than it was due under the lease to Meta.
Simon Carter, British Land's chief executive, expects the repositioning of 1 Triton Square and the wider Regent's Place campus to pay dividends in the long run but conceded that there would be a short-term hit to earnings.
However, he added he was "still comfortable with current market expectations" for British Land's 2024 financial year, which runs until March.
Carter, 47, said there had been "strong leasing activity" of late. Between April and August, British Land leased 1.2 million sq ft of space at rents, on average, 13 per cent above a previous forecast.
Read more:
Meta pays £149m to end lease of London office without moving in