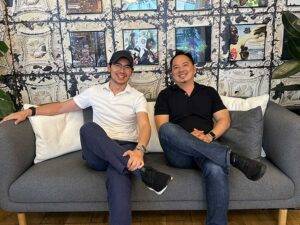 Financial wellbeing startup Mintago closes $4.75m funding round
Financial wellbeing startup Mintago has closed a $4.75 million funding round to further enhance its platform and accelerate its growth across the UK.
Founded in 2019 by Chieu Cao, the former co-founder and CMO of Perkbox, Mintago helps employers to attract top talent, retain existing employees and boost productivity. It also enables businesses to reduce their national insurance costs and foster a more positive workplace culture.
Mintago's powerful financial wellbeing platform is designed to help employees tackle their most pressing financial needs, such as managing pension contributions and locating lost pension pots through its Pension Hunter tool. The platform also enables employees to take control of their finances with free access to financial advisers, debt counselling, savings tools and unbiased financial education programmes.
The London-based startup went from strength to strength during the pandemic, underlining its position as a leader in financial wellbeing space thanks to its comprehensive suite of solutions for businesses, HR teams and their staff. Demand for its platform has also risen due to the cost-of-living crisis, with ongoing economic turbulence emphasising the need for employers to offer robust financial wellbeing support to their staff.
Well-known brands, such as Oddbox, Chilly's, Lucky Saint, Olio and Superscript, are among the hundreds of forward-thinking organisations already signed up to provide Mintago's financial wellbeing platform to their teams.
The funding round included $4.75 million in equity investment, with BlackLion Ventures (lead investor with $3.75 million), Love Ventures and Cur8 Capital among those involved. Mintago will use the funding to invest further in the technology underpinning its financial wellbeing platform. It will also expand its sales and marketing team to accelerate the growth of its client-base.
Chieu Cao, CEO and founder of Mintago, said: "We are proud to be at the forefront of the financial wellbeing movement, empowering businesses and giving employees everything they need to navigate their financial lives with confidence. This funding underlines Mintago's immense potential, and with the backing of some exceptional investors, we are excited to be able to fast-track our growth in the months and years to come."
Daniel Conti, COO, CFO and co-founder of Mintago, added: "There has never been a greater need for businesses to support their employees' financial wellbeing. The cost-of-living crisis is a source of significant stress for millions of Britons, and this can naturally impact their work life – the best employers recognise this, and are upping their support for staff by providing the necessary financial planning tools and access to advice, in turn building better relationships with their employees. Mintago is on a mission to support its clients in this journey."
Read more:
Financial wellbeing startup Mintago closes $4.75m funding round